Cue The Music is a three part series examining the options available to amateur and semi-pro audio/visual producers who wish to incorporate music in their productions. In Part One, we examined the process of clearing copyrighted music. In Part Two, we offered some alternatives to using copyrighted music. And in this Part Three, we will be examining the process of using royalty free music.
In part two, royalty free music scored high on convenience, expense and usability when searching for a music resource. But what exactly is royalty free music and what does the process of buying and using royalty free music really entail?
1. Royalty Free Music under the microscope
Let's start with a definition. royalty free music describes a composition that you may use as many times as you like and for whatever purpose after paying just a one time license fee. So, you could simply purchase a suitable piece of music for a one-off payment and include it in our small budget, short run audio/visual project with no further costs incurred to you, the producer.
Within that definition there are a number of stipulations. You can't just buy a load of royalty free music and release it on a CD, and you can't alter the composition by for instance, adding lyrics or a rap and releasing it as your own. But other than that you're pretty free to do with it what you want.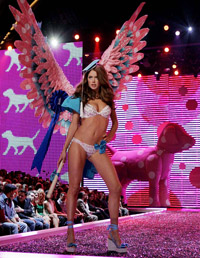 Our catwalk footage features some published music
One other point. As with any music, performance details would be noted if your project were to be ever broadcasted by a third party. But this is the responsibility of the broadcaster and not the producer, whose commitment to the project would have been fulfilled prior to broadcast. To the producer, the music remains entirely free from royalty payments.
2. How To Access Royalty Free Music
That's a brief outline or definition. So how does the process work?
Let's go back to our original brief in 'Cue The Music – Part One'. We were toying with the idea of seeking permission to use the track 'Still D.R.E.' by Dr. Dre, the original background music on our fashion show footage.
Let's suppose that there were too many obstacles and expenses and the process of clearing the track for copyright became counter productive as a result.
We decide instead to remove the audio track from the original footage and replace it with a sound alike track (we can always add some crowd atmosphere and applause to give the event a live feel and make it sound realistic).
So what we need is a sound alike piece of music to replace the original music bed, 'Still D.R.E.' by Dr. Dre.
First of all it's useful to know the tempo, key and genre of the track. Far from being random elements, they could hold the key to finding a suitable sound-alike. So our track, 'Still D.R.E.' comes in at 93bpm in A minor and is rooted in the category of Hip-Hop.
Armed with this info we approach a royalty free music website.
3. Visiting A Royalty Free Music Site
Many of the sites have a variety of ways we could now precede. We could check out their ready-made collections. These are normally available as either download or physical CD's. Many of them will be categorised by predetermined moods. You may get a CD called 'Chilled' or one called 'Uptempo Dance' or 'Rock Radio'. Normally their titles are pretty self explanatory.
The better sites have preview facilities so that you are able to listen to each track and decide whether the collection suits your needs. Remember, these CD's may cost close to $100, so you'll need at least 4 or 5 tracks that you think maybe useable. The best way to check usability is by previewing the track and running your footage alongside it in your Movie Making program. Do all the elements work together? If not, move on.
Perhaps in this case as we need only a single track we should check out the sites Music Genre categories. On top end sites, a list of categories won't be far away. Usually displayed skyscaper-style down the left or right hand side of every page.
Remember, our track is routed in Gansta Rap. Most sites will refer to this as Urban/R'n'B or Hip Hop. 'Gangsta Rap' may be available as a sub genre, but is more likely to be a little too esoteric for most tastes! Let's try Urban. That's the closest. Clicking on this category link will take you through to a list of tracks available in the style of 'Urban'.
Now the fun begins. At your leisure, you can read through the description of each track and preview them against your footage. The music will usually be 'watermarked' with an ident. A voice over stating that 'This is a preview', or something to that effect. But this shouldn't prevent you from judging whether the track will be suitable for use.
If they're further categorised by BPM (our tempo is 93BPM) and key (A minor), then check out those first, so that our search becomes as accurate as possible.
Most tracks will be available as full versions, or as loops of various durations (10 seconds, 30 seconds, 1 minute etc.). There may also be an underscore, which will include basic instrumentation, useful when there is a voice over to be added. In our case, there is no voice over.
OK, so let's judge the quality of the music.
4. Choosing The Right Track
I can virtually guarantee that many of the composers on many of the sites you visit will have produced a (shall we say) homage to the great Dr. Dre and his ground breaking world wide hit, 'Still D.R.E.'. Ah, yes. If only that royalty free producer had grown up on the wrong side of L.A., come up with that incredible piano riff before Dr. Dre, and befriended Snoop Dogg who then agreed to rap on it…Well, it could be a whole different story, my friend. But no. His royalty free version will forever merely be a facsimile, albeit a very good one, of the original track. And as we listen through, it becomes clear…This Dr. Dre homage is just what we need to replace the original on our fashion show project. In fact, it's perfect…
As for format, most mp3's on offer will use a high quality compression algorithm barely distinguishable from a 44.1 wav. But the audiophiles among us will feel more secure in the knowledge that our project offers the best possible quality and download the wav version rather than the mp3. Be aware that the wav takes longer to download, depending on your broadband connection.
The decision is yours.
OK, happy?
So 'Add To Cart' and let's go!
5. Add To Cart
Woah, there! Before we go any further, let's consider the cost. Typically an mp3 version of the track should hover around the $30 mark. With a 44.1 wav version being slightly more expensive.
Many sites will be offering 'bargain bin' prices ($7.00, $4.00…My entire catalogue for $37.50!). This low cost is often reflected in the quality of what's on offer. Of course, some sites will charge a lot more than $30, but this is no indication of quality. That's left to your own judgement, discretion and indeed budget allowances!
Trust your ears and preview a number of times against your footage. Remember that truly robust music will stand up to repeated listens. If there's any doubt about the quality of the composition, the flaws will expose themselves after a number of plays. Is our chosen track Dre enough? It is? OK, proceed to checkout.
6. Proceed To Checkout
But what's this? We're being asked a number of questions about 'licenses'…I thought this was supposed to be 'royalty free'?
Patience, it is. But there are a number of different licenses within that category and you need to make sure you choose the correct one.
Normally there will be a choice of two (some sites have more). These will be a broadcast license (for TV, radio and film etc), and a non-broadcast license (typically the best one for our short-run audio/visual project). This non-broadcast license will have a restriction on the number of copies you can produce. As an example, anything over 5,000 may be termed as mass market and would require you to buy the alternative license.
7. Sealing The Deal
So, after choosing the correct license you will be forwarded to a typical Internet shop where you are able to pay for and eventually download your royalty free track.
Within minutes the process is complete and the track is yours ready to import into your movie maker program and sync up to your fashion show footage.
And that's it!
8. A Conclusion
OK, so we've been through the definition and the process involved in using royalty free music as a music resource.
But as always, there are downsides. There will be times when you find it impossible to find a good match to what you have in mind. You may spend a frustrating amount of time searching through music that just doesn't somehow meet your needs. There is also an enormous amount of royalty free music available, which can lead to confusion over choice and price comparison.
Sometimes you will be scared away by the frustration of visiting sites with music that just doesn't come up to the mark.
But find the right site, and buying royalty free music can be the most satisfying and enjoyable process of all. And the results quite often speak for themselves when your project is given that indefinable 'X' factor by a well chosen music bed. If you haven't used it already as part of your audio/visual production toolkit I can recommend it as a highly beneficial resource of good quality music.
Now let's move on and finish that fashion show project before the weekends comes!
Resources
Royalty free music at shockwave-sound
Comprehensive international list of royalty collection agencies
More in this series:
Cue the Music, Part 1 – Using copyrighted music
Cue the Music, Part 2: Top 5 Music Resources On A Budget