In Part One, we looked into the process of using copyrighted music on a low budget short-run audio/visual project. In part two we are going to look at the Top 5 alternatives to using copyrighted music by seeking out available music from other sources.
1. Where Do I Start?
There is an ever growing number of alternative sources of music available to the amateur and semi-pro audio/visual producer. Websites are falling over each other to exploit music budgets by enticing producers with a variety of deals and bundles. But the choice can often be bewildering, and the quality, price and usability can vary wildly.
Hopefully this article will help make some sense of exactly what is on offer. And how you can get the best possible value from your music budget.
So let's look at the alternatives as we count down the Top 5 Music Resources On A Budget.
By the way. I've used a star system here whereby each source is marked out of 5 for convenience, expense and usability. The higher the star rating, the better it performs in that category.
2. Music Software & Programs
Many of the leading music software packages come bundled with comprehensive selections of music loops & kits. In GarageBand for instance, there are a huge number of loops featuring high quality instrumentation. And many of the virtual samplers like Halion, Reason and EXS24 offer simple solutions for music creation that are highly intuitive and easy to use.
However, you have to buy the software to access the loops. If music production isn't your primary business, you may end up paying over the odds for a wealth of music software that you can't use for any other purpose than gaining access to the bundled music. Then of course you have to arrange the loops and process them to suit your needs.

Some music software programs offer bundled music loops
There are also dedicated video production businesses that now offer buy-out music as part of their service. Many of these offer every conceivable tool for visuals, from stock footage and animation, to graphics, sound FX and yes, royalty free music loops and kits. Although these are rarely sold as entire compositions, favouring instead 8 and 16 bar loops necessitating the need for a command of music sequencer programs to edit to your needs. And beware. The quantity of loops available often out weighs the quality. My advice would be to preview the entire package to gauge its usability before making a purchase. Although many of the compositions sound highly polished on first listen, you may find subsequently that they just don't cut it when used as an underscore on your audio/visual project.
    Convenience **
    Expense *
    Usability ***
3. Sample Collections
Sample collections have improved immensely in recent years as more and more established music producers make their self produced samples and loops available on commercial releases. Quite often they will offer entire ready-mixed tracks that can be utilised as music beds with little adjustment. The loops are normally categorised by genre, tempo and key which would certainly help to find suitable music that needed to be of a strict predetermined speed or duration.
However, the ability to manipulate these loops or create your own music beds will require a degree of musical know-how and the ability to operate dedicated music software. You will need to have a sound knowledge of composition, mixing and layering to get the best results. Playing around with loops and samples may be the last thing you need to be doing if you're on a tight deadline.
Another negative aspect may be the cost. Gaining access to elite collections of samples doesn't come cheap. Physical CD's can cost anything up to $200 and you still may not be able to guarantee finding a suitable music bed.
Also beware of copyright. Despite the initial expense, the producers still maintain ownership of the music. In most cases, you're merely buying a restricted license to use their work. So sample collections can often be a pricey and unwieldy way of finding a solution.
    Convenience **
    Expense *
    Usability ***
4. Production Music
Production Music, or Library Music as it's commonly known has been around for a long time. Infact it was introduced back in the days of silent movies and has been an abundant resource of 'synchronized' or licensed music ever since. Lately, though the business model has started to look decidedly creaky. A lot of Production Music libraries ask for exorbitant up-front fees plus subsequent royalties that put the music out of reach for producers working with a limited budget. Some Production Music companies have addressed this issue by adjusting their business model to suit today's needs. While others hold on to their values, seeing the alternatives as quirky fads that will soon fade away into obscurity. Sure, you will find high quality music from experienced musicians and composers, but the business model errs more towards TV and film production rather than the low budget producer who is the subject of this exercise.
    Convenience **
    Expense *
    Usability ****
5. MIDI Files
Musical Instrument Digital Interface or MIDI for short was invented in the early 1980's to allow communication between digital synthesizers, sequencers and computers. Since then it has become the industry standard protocol for computerised music. Even to this day all music software packages interact with controller keyboards using MIDI interface, although wholly 'in-the-box' sequencers have somewhat reduced it's sovereignty over sequencer control. GM or General MIDI was introduced as a secondary protocol so that MIDI data could be interpreted by the same standard on every synthesised instrument. (A predetermined MIDI channel for a piano, a bass, drums and so on). GM was consequently introduced to soundcards and computers internal synthesis programs and functions. Hence the popularity of MIDI files for all sorts of applications from karaoke to games music.
This popularity and standardisation has led to an enormous industry based on MIDI files of popular songs. Any number of sites will offer tracks as MIDI files that utilise General MIDI that will prompt your soundcard to play a song faithfully when imported into your digital sequencer.
However, let's take an example. Say you downloaded a MIDI file of 'Waiting For A Girl Like You' by Foreigner, recorded the MIDI data as audio and inserted it on your audio/visual project. This would be a copyright infringement and result in legal proceeding should the publisher decide to sue. These are copyrighted songs that are on offer, not original compositions. You will need permission to use them, much in the same way you would to use a specific recording. (Although in this case you wouldn't require permission from the owner of the physical recording of 'Waiting For A Girl Like You' by Foreigner, just the synchronisation rights from the publisher).
Having said that, there are sites that offer original MIDI recordings by their own staff composers. In other words, 'royalty free MIDI compositions'. This may be a cheap and effective way to produce original (albeit non-exclusive) music beds for your project. Of course, this requires a degree of knowledge in manipulating digital recordings and the results will be determined by the quality of the sounds on your soundcard or choice of VST instrument. But all in all it's a reasonable, cheap solution, bearing in mind you need to factor in a certain amount of time to get the desired results.
    Convenience *
    Expense ****
    Usability ****
6. Royalty Free Music
The royalty free music business model came out on top for a number of reasons. Of course the quality varies and some sites are better than others, but overall the process involved was the smoothest and most convenient.
Bearing in mind that the music on offer is non-exclusive, gaining access to highly useable tracks, MIDI and SFX is easy, cheap and fast.
Matched up against production music and sample CD's, royalty free music scored high on economics, being currently the cheapest way to access good quality music. And for usage possibilities it scored well against software loops that still don't as yet offer as much variety as royalty free music. For convenience, too. You don't have to be a musician or digital music producer in order to prepare a track for your project. You just download it and import it straight into your Movie Maker without much fuss at all.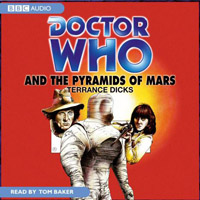 Dr Who & The Pyramids audiobook
enhanced by royalty free SFX in post production
Perhaps things will change. We are currently seeing a great rift appearing between royalty free sites that are slashing prices, while others are charging higher fees to use their music. Eventually the higher quality compositions may become more in line with production music, pricing themselves out of the reach of the ameteur and semi-pro multi media producers. While the one's slashing their prices will be exposed as offering 'poor quality' music. But currently times are good for the consumer, and there is an opportunity to build up a vast selection of credible music via royalty free libraries. Right now it's the best way to access effective music solutions for low budget audio/visual projects when you're up against a stiff deadline.
    Convenience ****
    Expense ****
    Usability ****
Resources