1. The Theatre's Contribution to Sound Design
As with any human discipline or industry, sound design as a practice and art form developed collectively over time, spurred on by the contributions of many and the striking visions and passion of leaders in the field. Below are two major contributors to the world of sound design as we know it today: Dan Dugan and Charlie Richmond. Both arose within the theatre world and created solutions to problems they faced – resulting in internationally respected products that we use today. Much of the major building blocks and tools used in sound design, live and in the studio, developed in the 1960s and 1970s,  and in this era these two sound founders began to make waves.
2. Dan Dugan

Dan Dugan, an American inventor, audio engineer, and sound recordist was born March 20, 1943. As a young man, 24, he began working in theater sound for the San Diego National Shakespeare Festival and the American conservatory. In 1968 the term "Sound Designer" was created to explain Dugan's efforts. His first major contribution to sound design, aside from giving a reason for the term "sound designer" to exist, is specifically relevant to live performance – the "automatic microphone mixer," known as the automixer, such below through several generations of production.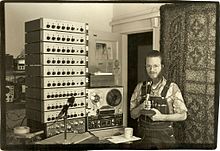 As a sound pioneer, Dan Dugan realized early in his career that he needed to work for and by himself to solve the problems he encountered – new problems were occurring in real time. As reported by Sound and Video Contractor in "AV Industry Icons" 2006, Dugan states: "I realized I had to work for myself … so I built my own studio. It was one of those gigs in '68 or '69 that sparked the invention of the automatic mic mixer." It was the frustration with feedback and noise problems that arise from using multiple microphones in a singular live setting, such as a theatre stage, that gave rise to his experimentations to improve live sound and the ability to design sound without sonic flaws. The two most important problems to solve specifically were one, reducing the amplified noise contributed by multiple microphones that pick up ambient noise and, two, eliminating the feedback created with multiple actors/microphones moving around stage into different positions and the cross signaling of their outputs going into each other's inputs – ie "feedback"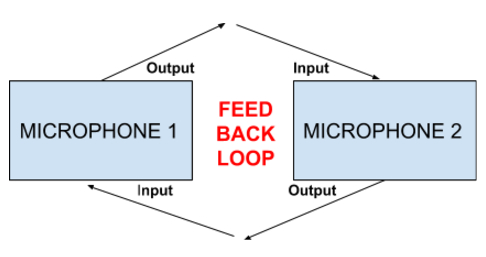 In the video below, Dugan explains the problems he encountered working on the live production of Hair, in which there were 16 area mics, 10 mics in the band, 9 hand mics, and one wireless mic – all operated by one person on a manual mixer.
Dugan played around with voltage-controlled amplifiers (VCAs) for several years in the early 1970s to solve the problem of spontaneous feedback and noise buildup, devising a system that used a distant reference microphone which accepted the signals from stage microphones. The output of each microphone was automatically adjusted depending on the input received by the reference microphone in real time via the reference mic. This enabled the system as a whole to avoid unwanted feedback while also balancing microphone levels. As he explains in Sound and Video Contractor, "I was messing around with logarithmic level detection, seeing what would happen if I used the sum of all the inputs as a reference. That's when I accidentally came upon the system. It was really discovered, not invented." he says. "I didn't really know what I had, just that it worked like gangbusters."(Sound and Video Contractor 2006).
His two main mixing systems, the Dan Dugan Speech System and the Dan Dugan Music System are demonstrated here in split-screen during a David Letterman show
On his website, Dugan explains that his products, the Model D, E, M, N, Dugan-MY16 and the Dugan-VN16 are "accessories" to sound mixing consoles, not mixers in themselves. The products are patched into the insert points of the send and return loops of each individual channel on an existing console. Thus, mics do not need to cued and faders can be left alone unless tweaked when used. As Dugan writes, "This frees the operator from being chained to the faders."
It is clear that live sound design would not be the same without Dugan's pioneering efforts. Dugan remains active operating Dan Dugan Sound Design in San Francisco, CA. You can check out his products and more at dandugan.com. He has an extensive list of products all based on and stemming from his original designs and creations. His products have notably been used by CBS Late Night with David Letterman, Oprah, Hollywood Squares, WABC in New York, WETA in DC, WVIZ in Cleveland, U.S. presidential debates, ESPN, NBC, CNBK, CBS, Fox Sports, MLB Network and more.
3. Charlie Richmond
A contemporary of Dugan's, Charlie Richmond was born January 5, 1950, and is an American inventor who came onto the scene in the 1970s and like Dugan, began creating solutions to solve the problems faced by live theater. In 1975, he addressed the need for a mixing console that would take 100 inputs, and wrote "A Practical Theatrical Sound Console" for the Audio Engineering Society (AES). In it, Richmond describes a unit which elegantly and economically allows one operator to control 100 controls at once without the need of a computerized assistance. The paper is in the AES online library which can be viewed by members or purchased.


Richmond launched Richmond Sound Design in 1972 and was the first to produce and market two new off-the-shelf products for theater mixing, a sound design console named the Model 816 in 1973 and a computerized sound design control system in 1985 – Command/Cue. In addition, he invented the "Automatic Crossfading Device," trademarked "Auto-Pan" in 1975. According to the Richmond Sound Design website, the Model 816 was "matrix-equipped and included our patented AUTO-PAN™ programmable crossfaders" and revolutionary at the time. Richmond's company went on to create the Command/Cue computerized audio control system used in multiple theater performances, theme park shows internationally and in Las Vegas. In 1991, with Stage Manager show control software they pioneered the use of MIDI to manage multiple media controllers including sound, lighting, lasers, etc which became an industry standard for all types of live shows from Broadway to cruise ships. Since then, Richmond Sound Design has contributed significant sound software and hardware that have greatly expanded the possibilities of live sound design including: the MIDIShowCD in 1994 which provided multichannel sources at the fraction of the cost, the AudioBox Theatre Sound Design Control system, the ShowMan software and the ShowMan Server Virtual Sound System which brought compatibility for all of its products to an industry standard.
Richmond and Mushroom Studios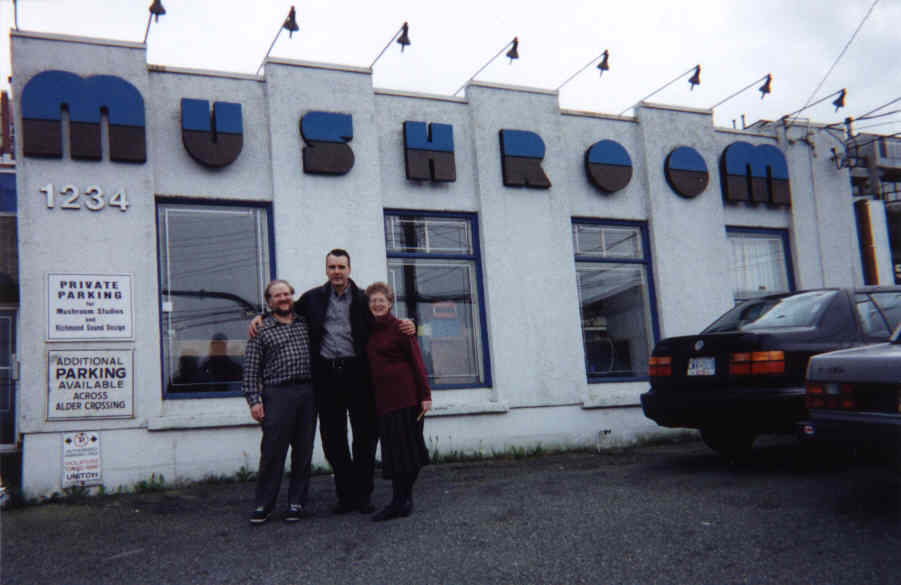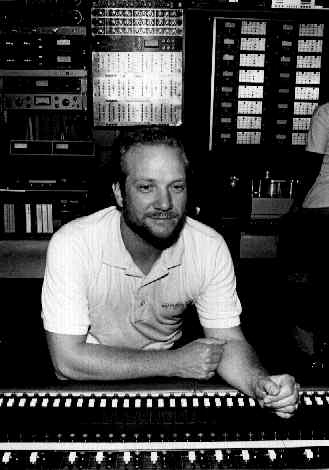 Richmond also brought his success with live mixing to studio music mixing by purchasing Mushroom Studios in Vancouver, British Columbia, Canada in 1980. Richmond hosted concert musicians to score many feature films including the film score album of Top Gun. Skinny Puppy, Tom Cochrane, Fear Factory, and Sarah
McLachlan were some of the notable acts that recorded there. Richmond sold the studio in 2006. Clearly, talent with sound bleeds over from sound design into music mixing and sound leaders like Richmond can easily traverse both realms.
4. Richmond's Writings
What might be most striking in Richmond's relation to sound is his gift with written language and his visionary nature. Software such as Garage Band which comes free with Mac products today, and professional software such as Logic Pro and ProTools were obviously only a distant dream of sound designers 30 years ago. In Theatre Design & Technology Magazine, 1988, Richmond contributed a piece entitled "A Sound Future" and in it he predicts the invention of the Digital Audio Workstation (DAW) that inundates the sound world today. As he writes:
Sound designers have been waiting for a long time for a system which allows us to create soundscapes easily, almost intuitively: a system which would perform as a transparent extension of our desires, a tool which requires no interpretation between wish and result. – Charlie Richmond 1988
In 1988, he also predicts the creation of the graphically oriented interfaces that we use today, buttons, etc:
Just point at the picture of the deck and click the mouse button and the (graphically represented) reels will start turning, click again and they will stop. Great, but …what about all the different types of loudspeakers? All of a sudden, I start seeing a lot of work for our software people and a delivery date of some time in the 1990's for a customized system.– Charlie Richmond 1988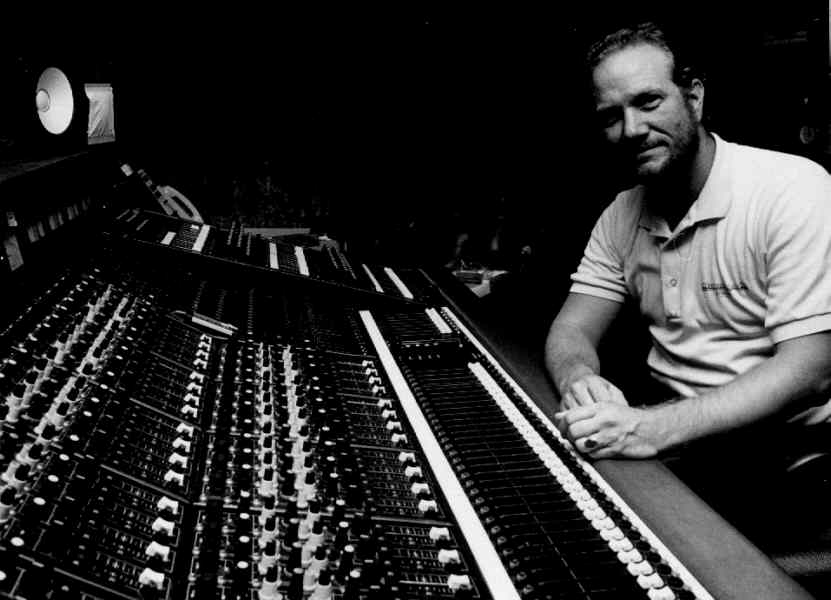 Again, visionary. Richmond goes further to suggest how digital graphics could be used to control the parameters of software and it is reminiscent of the many DAWs we see today:
Maybe we should be able to display a big picture of the loudspeaker representing the output in which we want to increase the volume. We could represent the overall volume of the loudspeaker by changing the overall size (volume!) of the graphic representation. – Charlie Richmond 1988
Dugan and Richmond have both significantly contributed to the hardware and hence the software that enables sound designers today, both live and in the studio, to create in ways never before possible and perhaps never possible without them. I find it interesting how it was the demands and problems specific to live theatre that propelled Dugan and Richmond to invent new solutions to audio problems that live bands and studio recordists meet, or world have met, without them.