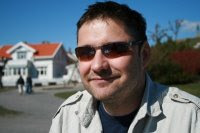 Dear friends and customers,
I would like to draw your attention to some new functionality we have on our website, which enables selected customers to get access to preview files without the voiceover watermark ("Preview…", "Shockwave-Sound dot com…") before actually buying the track.
For obvious reasons, we are a little bit withholding with access to this functionality because it enables people to download full quality MP3 files, without any voiceover watermark protection, without licensing the music first. For this reason, we reserve access to this functionality to:
Repeat customers.
Large and high profile companies.
Other people that we know personally and/or that we find a particular reason to show this level of trust.


The feature works like this: We set you up with a login and password to a special area of our site. We also attach this login-ID with your IP-address, so the login will only work from the actual IP-address where you are attached to the internet. (I.e. it doesn't work if somebody in a different part of the world tries to log in with your details).
Once the account is set up, you use our regular website to browse for music and you "tag" any track that you are interested in.
You then go to the hidden area and log in with a user name and password. Once inside, you can see download links to non-watermarked MP3 files of all your "tagged" tracks.
Should you / your company be interested in setting up an account for this, please contact us via our "Contact" page.
Thanks for reading!