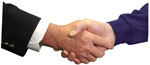 We realize it's a little unusual, but at Shockwave-Sound.com we are now introducing a customer satisfaction guarantee.
Success or your money back,
even on downloadable, non-returnable products.
Ever since we started our business back in 2000, we – like other sites that sell downloadable products – have operated with a policy of "after the product has been downloaded, you can't go back on your purchase". It is (or at least, it was) the norm for downloadable products. Just try to get a refund / exchange from iTunes after you've downloaded an album from them!
However, we have come to feel that this approach is a little "last decade", so we are changing our stance on this. We want our customers to be entirely happy, or we will refund their money.
If you have a problem or issue with sound effects or music tracks that you have licensed from us, please contact us about this within 30 days after your purchase. We will first try to help you with your problem. Whether it's a rights related problem, a technical problem or whatever else, we will do our best to get you sorted out.
If we are unable to fix your problem, we ask you to send us a written statement (by email) saying that you have deleted the sound/music from your computer(s) and that you weren't able to use it, and a short explanation of the reason. We will then refund your money without quibble.