Dear friends, users, visitors of Shockwave-Sound.com.
This weekend we are launching the newly redesigned Shockwave-Sound website. We hope that you will enjoy using it. The new site features a slick, new design, more modern and perhaps more pleasing to the eye – although, of course, that is a matter of personal preference.


Shockwave-Sound.com new site 2015
More importantly, though, the new Shockwave-Sound.com has functional improvements beyond the purely visual. "Under the hood", the handling of database queries such as browsing, searching etc. in the music catalogue is better optimized and uses more cache features, which means that everything should be faster, more streamlined.
The new site, compared with the old one, features:
Faster browsing and page loading.
Faster search, much less load on the server.
Fully Adaptive/Flexible design that works well on screens of any size, including tablets, cellphones, etc.
No Flash, all HTML5 built.
Choose between Standard or Condensed View in all track listings (Condensed view shows less details of each track and a preview sound player for only the "Full track" version of each track).
More track sorting options including "Most sold forever" and "Most sold recently".
A simplified and easier accessible Advanced Browse functionality that lets you combine different criteria such as Moods/Emotions, Music Genres, Tempo, Instrumentation and more, to find your perfect track.
"Find Similar Tracks" feature which automatically pre-fills the Advanced Browse page for you, to enable you to find more tracks that match several criteria from the track you just heard.
There are many other smaller improvements, which hopefully you will find along the way as you start to use our new site. We hope you enjoy it.
A bit of history
Just for fun, we decided to dig out some pictures of older versions of Shockwave-Sound.com, going back to 2001. Actually, the site itself was started in April 2000, but we don't have any historical images of the site until February 2001, when the first picture below is from. Looking at the pictures below, you can see that we have pretty much operated with the same core design / look since 2002. That's 13 years, without a major overhaul of the look and design. I guess it was about time! Although I have to say, that the "2002 design", made for us at the time by Gert Duinen, combined with the core programming work and database connection created for us in 2005 by Richard Davey, has served us extremely well.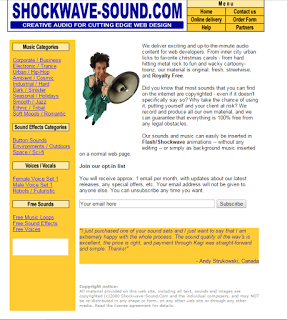 Shockwave-Sound.com, 2001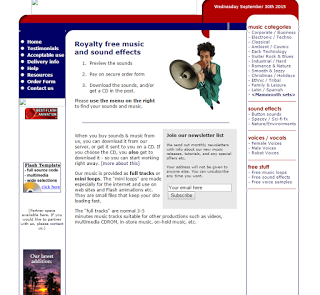 Shockwave-Sound.com, early 2002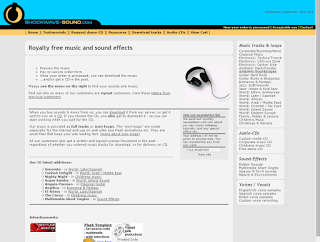 Shockwave-Sound.com, 2003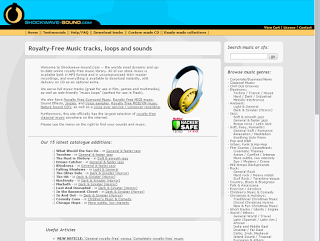 Shockwave-Sound.com, 2008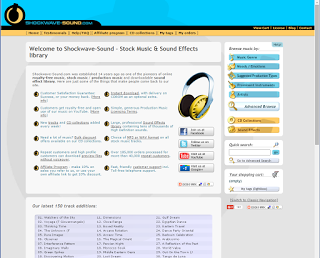 Shockwave-Sound.com, 2014