Dear customers, visitors, passers-by and everyone who might stumble across our site today..
Today at Shockwave-Sound.com we released our new album
Classical Piano Favorites, Vol. 2
. I just wanted to take a moment to write a few words about this album because I feel that this is not "just another classical piano album". These days, with all the technology we have available and all of the amazing sounding samples and virtual instruments, it's pretty easy for anybody to obtain sheet music of classical piano masterpieces, enter them into the computer, and export this as a pretty decent sounding recording of the piece in question.
However, we feel that this isn't really the way to go, and especially so with calm and soothing classical piano works, because we feel that it's vital to have the pieces performed by a human with some insight, some experience, some touch and sensibility as to what this beautiful music really is about and what it means to us.
This is why, for both of our
Classical Piano Favorites Vol. 1
, and
Vol. 2
, we decided to seek out the services of
Vadim Chaimovich
, a renowned and accomplished concert pianist. Vadim is a prize winning musician, originally from Lithuania, who studied the piano from the age of 5 and is today a popular concert pianist, traveling the world and playing to audiences' great delight.
We were lucky enough to get Vadim on board with us, and for these projects he hired an amazing grand piano and had it tuned up especially for the recording sessions. He rehearsed for weeks and then recorded the album over a period of a few days, with top-of-the-line recording equipment in a pro studio. 
Because, well, if you're going to do something, why not do it right?! We feel that these amazing compositions by Satie, Mozart, Mendelssohn, Bach, Chopin and many others deserve this kind of treatment from a true connoisseur of classical music.
Listen to the beautiful, unique and touching performances of our "Classical Piano Favorites" albums and we think that you'll be amazed. Honestly, it's quite unheard of, that performances and recordings of this quality is made available for "anyone" to license for such low license fees. (Starting from around $30 for a track or $100 for the whole album).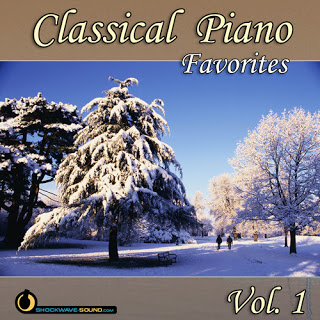 Classical Piano Favorites Vol. 1 (2015)