by Simon Power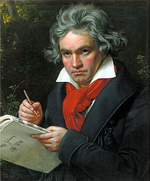 If you are a filmmaker or production house looking for a recognizable hook or sound bed for a visual presentation, then classical music can be a tremendous asset. The Classics can be used to add weight and depth to your project, instantly giving it a classy air of sincerity. Or they can be included with a sprinkling of irony to add humor, gaiety and wit.
What's more, a huge percentage of the public recognize many of the popular pieces instantly, as they have been used countless times on films, sporting events, TV shows and commercials. So that gives you an instant shortcut to a wide pallet of emotions and shared consciousness with your audience.
So that's great, isn't it?
Well, yes, but there remains a huge problem with classical music: Much of it is just plain inaccessible. Sure, you can recognize a piece of classical music, you can probably hum the first few lines. But when it comes to searching for the actual piece, you're met with a frustrating & bewildering puzzle to unravel.
The first problem will be the title. Unlike popular music, the title will not always be representative of the emotion or imagery you get when listening to it. You may be looking for a piece that puts you in mind of a 'Beautiful Sunrise'. But the piece turns out to be called 'Suite for Solo Cello No. 1 in G Minor BWV 1007 Prelude'.
Same with the composer. Not content with two names, most of them have three or four. And a few of those will be almost willfully unpronounceable. Of course, I'm being flippant, but you get the picture? Unless you're classically trained you will find it awfully hard to get what you want when searching for classical music for your project.
So how can I find what I'm looking for?
Well, hopefully, these articles will help by offering a beacon of light to producers who are keen to explore the rich and diverse world of the classics. Each part will name & describe 10 popular classics with a particular theme. Many of the examples mentioned are out of copyright public domain pieces that are available for download at shockwave-sound.
So let's kick off with some real biggies to get the ball rolling…
Part one: Bombastic Classic Anthems
Here's a list of 10 rousing classical anthems. Uses could include war-like themes, colossal shows or cataclysmic events. They're showy, impressive and somewhat grandiose pieces that take full advantage of the huge might of an entire orchestra.
10. Finlandia Op.26 No. 7 – Sibelius
Dark, impressive brassy chords full of impending doom from this Finnish composer who produced loads of good Wagnerian sounding stuff in the early 20th Century.
9. A Night on Bare Mountain – Mussorgsky
A track for the masterwork Pictures at an Exhibition, this frenzied, nightmarish romp sounds like someone left the gates of Hell open wide and the screaming banshees of Hades have just flown through.
8. Symphony No. 9 in D Minor Op. 125 Molto Vivace – Beethoven
A change of gear, but no less impressive, this is a joyous, extravagant string symphony filled with all the pomp & ceremony of a huge event or happening.
7. Gayaneh Suite No. 3: The Sabre Dance – Aram Khachaturian
Kyachaturian was a Russian composer which figures when you hear this Arminian workout complete with driving rhythm and loud, incessant woodwind and brass.
Archetypal Russian folk music played at break neck speed.
6. Toccata & Fugue in D Minor – Bach
its Judgment Day and Bach's Fugue makes it sound like the entire majesty & weight of religion is crashing down around your ears. This is full on fire and brimstone and what's more it has a MASSIVE organ!
5. Mars (The Planets) – Holst
Cheltenham born Holst was most famous for his orchestral suite, The Planets. A blinding collection of tunes that run the full gamut of human emotion. Mars makes it to this list for being arguably the most bombastic track with its Morse Code-like pulsing bass and apocalyptic lead lines. Its influence on modern film music is incalculable.
4. 1810 Overture – Tchaikovsky
Boy, these Russian composers like it big and the 1810 Overture is no exception. With its huge orchestration, bells and clashing cymbals, its sheer big-ness knows no bounds. And what's more, any piece that includes the sounds of canon's firing makes it into this list, so here it is at number 4.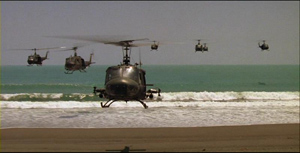 Apocalypse Now used Wagner's "Ride of the Valkyries"
3. Ride of the Valkyries – Wagner
Wagner is so cool, he even has his own expression named after him. 'Wagnerian' means big, powerful, domineering, full of drama and emotional intensity. And that about sums up 'Ride of the Valkyries', now famous of course for its inclusion in the chopper sequence in 'Apocalypse Now', this is a masterpiece of bombastic classical music from Mr. Hitler's favourite composer.
2. Romeo & Juliet Op.64 Act 1: Dance of the Knights – Prokofiev
Recently highjacked for the UK version of 'The Apprentice', Dance of the Knights is a behemoth of classical music with orchestration that crashes in like the approaching footfalls of some giant monster. It lollops around with surprising grace before ending with some huge chords that are enough to induce feverish applause from any mortal human being on the planet.
1. Carmina Burana Fortuna Imperatrix Mundi: No. 1 O Fortuna – Orff
Carmina Burana is a collection of 24 poems set to music by Carl Orff in 1936. The poems are from dramatic texts from the 11th, 12th and 13th Century that reflect the birth of an international European movement. Though you wouldn't know that to listen to them as they were all written in Latin and a couple of other dead languages.
But no one really listens to the words of 'O Fortuna' (the intro to Carmina Burana.) You just get swept away by the power and majesty of the awesome music. The huge choirs, the incessant rhythms, the dark thunderous orchestration. Yep, in a list that's all about high and mighty classical tunes, 'O Fortuna' from Carmina Burana is number one, because, in all truth, there's no other place for it.
OK, so as always with charts there are lots and lots of choices that didn't make it into the final list. And this is by no means meant to be a definitive countdown of bombastic classical tunes. In fact, there're in no specific order and, after reading it, you can probably think of a hundred omissions and one's that got away, or trampled in the stampede.
So at least let me give you these. Five more tunes that were considered for the list, but didn't quite make the final 10.
Brandenburg Concerto – Bach
Radetzky March – Strauss
The Arrival of the Queen of Sheba – Handel
Entry of the Gladiators Op.68 – Fucik
Symphony No. 40 in G Minor – Mozart
Who knows, maybe this list will lead you on to finding some less well known pieces by these awesome composers. Either way, I hope it will help with your decisions when choosing some rousing classical music for your film, documentary or presentation.Royalty Free Classical Music can be searched and licensed at
Shockwave-Sound.com
This article continues in: Choosing the right Classical music (Part 2)