For the past few years, among the many different artists from all over the world who regularly supply music for publishing via Shockwave-Sound, Abbas Premjee has been one of the more prolific and active ones. He has composed many great tracks of stock music for Shockwave-Sound. I was intrigued by the varied musical output and some of the interesting sounds and moods that Abbas creates with his many different instruments, so I took the opportunity to catch up with Abbas and have a nice conversation with him about music and life in general.
Leaving the actual music aside for the moment, who is Abbas Premjee and what's your story? Have you always lived in Irvine, California?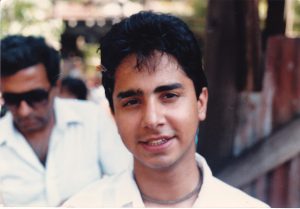 First of all, thank you for this opportunity to tell you my story. I was born in Karachi, Pakistan. My Father was an entrepreneur and had several businesses which were quite successful. He was a self-made man and it was assumed that my brother and I would take over his responsibilities for which we were being carefully groomed. Fate, however, had different plans for me. Ever since I can remember, music and sound have fascinated me and any kind of musical sound would have a great emotional effect on me. Growing up in Pakistan was not the same as growing up anywhere else. This was the time in the early 80's, martial law had been enforced and Islamization was on the rise. Needless to say, finding musical instruments, supplies or instruction was close to impossible. For me, however, this just made it more exciting. Just to remind our younger readers, at that time in the world, there was no internet and information was prized and hard to come across. For this reason, I was mostly self-taught and learned by ear and through some books. However, I now believe that this has worked to my advantage. I spent many hours trying to decipher the chords and solos from my early influences which were filled with whatever Western music I could get my hands upon. Thankfully, there were some wonderful artists I was also exposed to through my cousin, who had studied in the US. Amongst these was Pink Floyd, The Eagles, Steely Dan and others that I still listen to today.
At the age of 16, my parents sent me to the US to get a university education. I was enrolled in the Mechanical Engineering program at Loyola Marymount University. I decided to take a class in Jazz improvisation, I had no idea at that time what it meant. Through that class, I met other musicians and eventually understood the rudiments of jazz improvisation. I was also approached by other musicians to join their band as a guitarist. We did a lot of rock and roll and would occasionally travel up and down the California coast playing gigs. That was a really fun time for me. It was during my senior year in university that my life took a turn. I had decided to take an elective class in something which I did not understand at that time but sounded interesting. It was called "classical guitar". I give credit to my teacher at that time. He was an inspirational figure for me and that first class with him is still fresh in my memory. He made me realize that I was just beginning a long and beautiful journey. I had no choice but to spend another year in University and declare a double major. A year later I graduated with a degree in Mechanical engineering and a degree in Music theory and composition.
My journey had just started and I had to continue. On the suggestion of one of my teachers, I applied for a Masters program at the University of Cincinnati Conservatory and was accepted. I was offered a scholarship and I was over the moon. I was flung headlong into an environment of the most amazing musicians I had ever seen. An environment full of history and academics all focused purely on music. I was very new to the classical music world compared to my peers, most of whom had been in this for many years. This was a glorious time of my life and was filled with many beautiful experiences such as playing in Masterclass for some of the top classical guitarists in the world such as Manuel Barrueco, Pepe Romero and others. I finally graduated from that reality in 1993 with a Masters degree in Classical guitar from SMU in Dallas, TX. My goal was to be a professional classical guitarist but fate had other plans in store for me.Around that time, I received a phone call from my father who asked me to return to Pakistan as he was getting old and needed help. I could have never refused him and so I returned to Pakistan at that time, a lost soul. I had all this music and knowledge inside me but was instead thrust into the business world.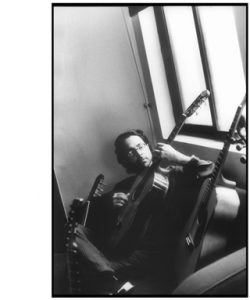 For ten long years, I tried to the best of my ability to help him. Eventually, my father passed away and the business collapsed. During these ten years, I hardly did any music and I was like a fish out of water. I was dying to get back in. The year was 1996 and the world had changed a lot during those years. Digital audio was in its infancy and I knew I wanted to get back into music but being ten years older I was looking at things from a business standpoint as well. I was now married and starting a family. I did not want a gigging/touring life anymore. I was looking for stability and having an engineering background as well, decided to invest in a music composition and production studio and teach myself all I could. At this time, I was still living in Pakistan but I could see that this was not the place I wanted to bring up my family and so in 2009, I sold my studio and returned to the United States. A year later my family also joined me and we moved to Irvine. I was desperately trying to find my place and spent the first couple of years teaching and playing classical guitar gigs at weddings and events, just trying to survive. Around this time, I started writing, just for fun and discovered that there was a royalty-free market for music and put a few tracks up. I saw a few sales and even though the returns were minuscule, I saw the potential If I had a lot more music. At that time, we were living in Little Rock, Arkansas. I decided I had to be bold and we made the decision to move to Irvine, California. I spent the next six years there and exposed myself to all the opportunities available. I discovered the phenomenon of production music, which I did not know existed. I attended as many events, conventions etc as I could and soon developed a network of publishers, agents etc. All the while, I was writing feverishly and in almost any genre I could. The only way of getting good at anything is to do it and the more you do it, the better you get at it. I used this logic and soon enough developed a sizable catalogue in many genres, including several that I was not very good at. I understood the values and priorities of production music but at the same time tried to retain my personal identity. Looking back, I can see that I was fortunate in that along the way, in my musical life, I had played many different genres including rock, pop, jazz and classical. I had also extensively studied Indian classical music, the ragas etc which had a profound impact on my musical vocabulary. After living in California for six years, and establishing a path ahead, I felt I could now move to any place and be able to work remotely. Over the summer we moved to Houston TX, to be closer to family and that is where I am currently living with my lovely family which consists of my lovely and wife, without whose support I would never have been able to come this far, and three beautiful kids.
That is a truly remarkable story and I guess it goes to show how people can end up in a place, and in a life, that they would never have imagined. I'm sure your story would make for a pretty good Autobiography sometime down the line. Did you ever think of writing about your story and your life's journey?
I never really thought of that, but am open to the idea, especially if reading my story helps or inspires others.
You mentioned the situation in Pakistan in the early 80's with Islamization and martial law coming in the way of your development as a musician – though, clearly, they did not succeed in keeping you down. Can you tell us a bit more about the plight of musicians and artists working under those circumstances and how they can overcome the obstacles in their way?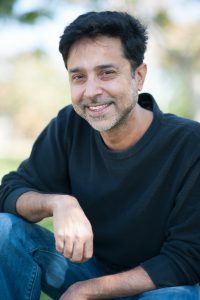 Today the plight is not about access to information, like it was in those days, because today, with access to the internet, information is no longer a barrier. The real plight, as it also was back then, is poverty and class structures that don't allow the poor to improve themselves. I was very fortunate that I came from a family where my parents could afford to send me to the United States for further studies. Today, in Pakistan, there is amazing talent and there are some accomplished musicians and bands but it is mostly Western or Bollywood influenced. The folk and classical music has suffered and, unfortunately, may be on the brink of extinction.
During the time you've been actively composing music, how would you say this art form changed and developed, for you personally – and in general?
Over the years of writing music, my writing has changed considerably. Before I was only trying to express as an artistic statement of some sort. I remember it always had to be profound. It was a lot more personal and I was a lot more possessive about my music and very closed to criticism. I changed a lot! I had to look at this very personal phenomenon through a business lens and that was very difficult initially, but the more I wrote, the easier it got. I developed an openness to criticism and started listening to a lot more different genres and started listening very critically to my own work and worked to overcome my weaknesses and I started to approach it more clinically. I am still doing that and I don't think that process ever stops. You keep trying to improve the quality of your music and that is the fun of it. The beauty of this journey is the ever-changing terrain.
As a publisher and distributor of production music, I like to keep my ears open and listen out for what kind of music actually gets used in today's productions, be it on TV, online or in other media, and it occurs to me that a lot of the music that works best in media is, for lack of a better term, "simple music", with maybe just one or two instruments playing at any given time. However, the music that we receive for publishing often tends to be much more layered, with a lot more instruments playing on top of each other, and perhaps "overproduced". Do you have thoughts on this, and do you ever set out to produce music with only one or two instruments playing?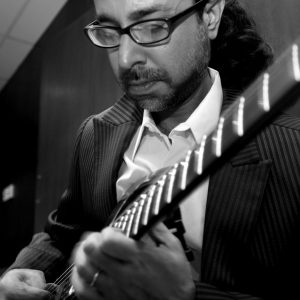 You're absolutely right. Today we have a tendency to say a lot more than required, too many instruments and cluttered sounds etc. It is a lot more difficult to say something of importance in a few words. It requires elegance and eloquence, these things come after many years of trial and error. It reminds me of what I learned in Graduate school, that beauty is in subtlety. In today's quantized and perfect world, much beauty has been lost. The production music industry has mostly newcomers and a few seasoned composers that think that way. I think it would be a real challenge to deliberately make an album with just two instruments, any two instruments and make it work in a production music setting. That may very well be my next project, thanks for the idea.
What are your favourite artists for when you just want to relax and listen to good music?
Aah, that has been one of the few drawbacks of this lifestyle. I rarely get a chance to just listen like it used to be. Before I would curl up with a favourite album/CD and do it just for the fun. Now, when I do have spare time, which is rarely, I like to give my ears a rest and let them refresh. I listen to a lot of music but a lot of it is for work-related research or the kids at home blasting their own tunes.
A quick search for Abbas Premjee on YouTube brings up a video in which you play an unusual instrument – the Mohan Veena – with a very beautiful sound. What is this instrument and how did you get into playing it?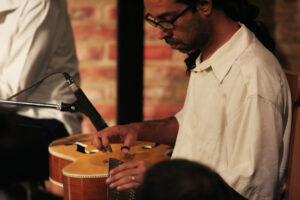 I first came across the Mohan Veena, at a friends place in Pakistan in 2005. I was musically at a point where I had recently gotten back into music after my 10-year hiatus and had started to write a little bit. I was in a mood to explore new sounds and ideas and this seemed like the perfect direction to take. To tell you a bit about this instrument, It is also called "Indian slide guitar". It is fitted with 20 strings and played lap style with a metal slide. 12 of the strings are sympathetic strings and add a beautiful resonance to the instrument. By sympathetic I mean they are not struck but tuned to the notes of the raga being played and they vibrate sympathetically. Being a slide instrument it is capable of playing microtonally which allows the true essence of Indian classical music to come through. I bought the instrument on a trip to India and took instruction with Ustad Raees Khan, the renowned sitar maestro and gave me the opportunity to study the theory of Indian classical music. The theory of Indian classical music has been evolving for thousands of years and has a deep understanding of the connection between notes and human emotion. For a few years, that is all I did at that time. This music captured my spirit and gave me a totally new vision of the experience of music. I found here, a vocabulary of sounds and emotions that were totally alien to Western ears and I was very intrigued by the possibility of combining these sounds with jazz. This also led to my first commercial album release in Pakistan which was called "Elements" which you can listen to on my website and two more follow-up albums called "Crescent Moon" and "Symbiosis". These three albums represent my efforts at finding a synthesis between Western jazz and Indian classical music. I hope to do more of this in the future sometime.
Do you play, or have you played in the past, any other unusual and exotic instruments?
As part of my efforts to constantly improve, I am always on the look for new and unusual instruments. I try to make an effort to use real instruments whenever possible, even if that means just a shaker! Real instruments add soul to the music. None of my other instruments can be considered exotic. I have many guitars, basses, ukuleles, mandolins and lots of percussion instruments which I have started to collect. I love instruments.
You seem to have a wide repertoire of styles and genres that you work in – is this a deliberate choice, and do you feel there are some styles of music in which you do your best work?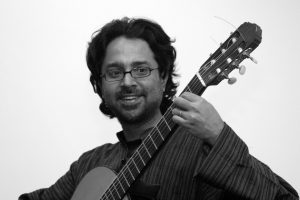 Growing up, I played and listened to many genres of music. However, after studying classical guitar and getting into classical music, a sort of musical snobbery came over me, as is often found with classical musicians. I had to make an effort to get over that and play other styles of music, this was essential and very liberating. Music has so many forms and in my opinion, the best things happen when you do not have any compartments or genres but freely use and borrow across styles and cultures. I love music in all its manifestations and I want to play and experience them all, from rock and jazz to classical and funk and across continents. So yes, it is a deliberate choice and production music allows that to happen.
Do you still actively play in any band, group or ensemble – live concerts, anything like that?
Live music has always been a part of my life but unfortunately, lately, that has not happened. I hope to change that in the near future and get involved with like-minded souls who like to explore new sounds.
Can you tell us something about your recording setup, e.g. main pieces of hardware and software that you use for your composing and recording sessions?
Here is my setup:
Front End
Neumann KM 183 stereo pair
Mojave audio MA 200
Shure SM 57
Focal monitors CMS 50
Millennia HV 3C
Grace audio 101
Interface Steinberg UR 28M
Software
Cubase 8.0
Nektar LX 88 key midi keyboard
Spitfire audio Albion, Woodwinds
East West Quantum leap Gold and Hollywood Brass
Spectrasonics Omnisphere, Trillian, Stylus RMX
Native Instruments Komplete, Session Horns and some others
U He Zebra 2
Alchemy
Addictive Drums
Many others
various guitars and amplifiers

Here is the Abbas Premjee catalogue of royalty-free music / production music tracks composed for Shockwave-Sound.
Here's a video of Abbas performing on the Mohan Veena instrument:
[author] [author_image timthumb='on']https://www.shockwave-sound.com/img/artist/2-190x.jpg[/author_image] [author_info]Abbas Premjee was interviewed by Bjorn Lynne, who is also the founder and manager of Lynne Publishing and Shockwave-Sound.com[/author_info] [/author]