For a good few years now, Dmitri Belichenko has been a regular contributor of new music released by our label, Shockwave-Sound / Lynne Publishing. His music tends to be electronic, but with orchestral elements and use of sound design as part of the compositions and production. Often raw and unforgiving, his productions – some of which have an edge which lends itself perfectly to futuristic productions, science fiction, post-apocalyptic worlds, and others with a sense of awe, amazement and beauty, weaving images of wondrous nature scenes, amazing footage of natural beauty.
Dmitri is also a terrific producer of dance music. Dance floor thumpers with an urban edge and a deep, relentless groove.
We sat down in conversation with Dmitri to talk about music and life.
Dmitri Belichenko — I believe I've also seen it spelt as Dmytro Belichenko? — sounds to me like a name with a Russian background. Can you tell me a little bit about your background and your history? Have you always lived in Canada?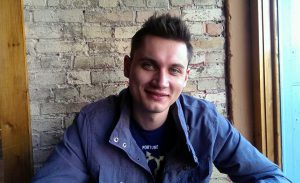 Actually, Dmytro is a Ukrainian spelling of my name. It can be spelt both ways, but in Canada, I prefer Dmitri, seems easier to pronounce. I was born in Lviv, Ukraine, a beautiful city with a rich history. My childhood was pretty average for a Ukrainian kid in a middle-class family. I had no idea that my life would change drastically when I turned 15 and my parents decided to immigrate to Canada. We left everything behind and came to Canada with two suitcases and no real prospects. When I started high school I was fortunate enough to find a part-time job as a dishwasher and that helped us pay rent and get by until my parents found jobs. Both my parents were engineers but it was really tough for them to find a job in that field. My mom ended up sewing for an alterations shop and my dad started painting houses and apartments. Eventually, my mom joined him and they started their own business. I worked with them from time to time but by then I already started DJ'ing in local clubs and was seriously considering music as my career of choice.
I guess you were just too young when you left Ukraine, to really have a good sense of the music scene there, but do you remember what music you were listening to back then, and do you think a seed of interest in music production was planted already in your childhood back in Ukraine?
Yes indeed, I started getting into music back in Ukraine, but not so much in childhood. Like most, I was more interested in Nintendo and hanging out with friends. The geeky, glued to the computer, addicted to music making behavior didn't start until about 13 years old. In school, we shared music between friends and so I came across a few electronic artists like Cosmic Gate and Brooklyn Bounce. These really caught my ear, and from there I went on to seek out more artist and just became interested in electronic music in general. Growing up in Europe, trance and dance music was around all the time. You'd often catch ATB on the radio and so this was not unusual for kids my age to get into electronic music; not all wanted to start making their own however, haha. When I first started dabbling in music production these artists were my early inspiration.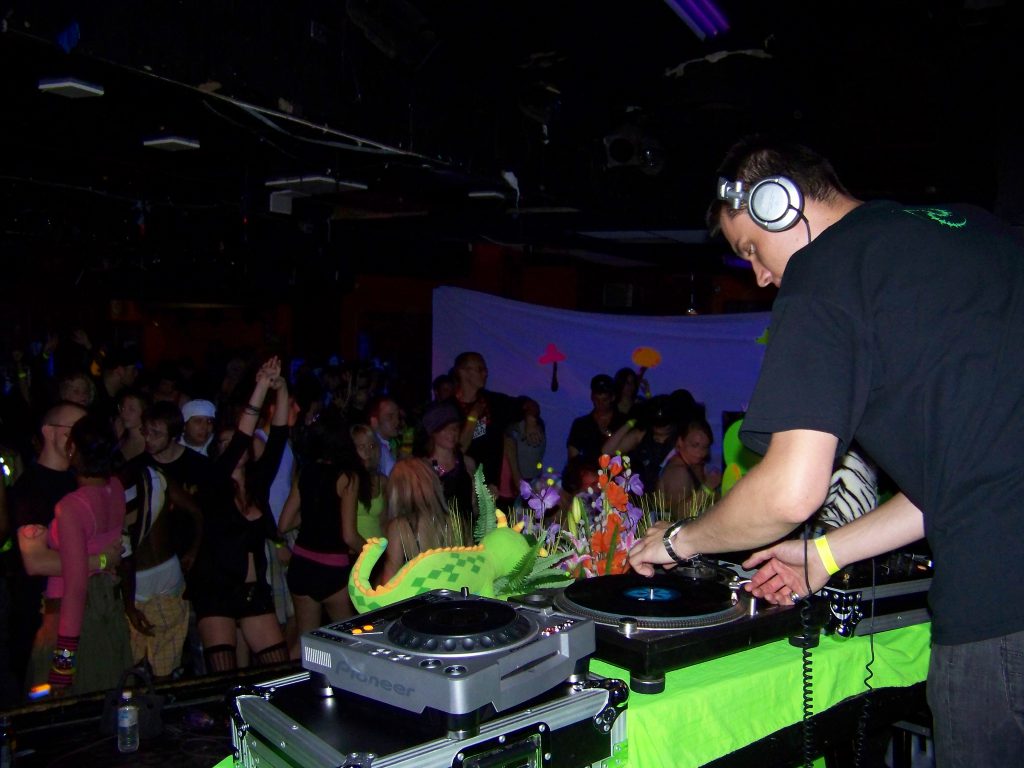 At what time did music become important to you, and have you always known that you were going to be a music composer, or have you done any other work that's been important to you?
When I lived in Ukraine I was planning on becoming a doctor or something relating to a medical field. I started attending an after-school program at the university that focused on biology and genetic research. I really enjoyed interning at the university genetic lab where I studied different microorganism cultures for antibiotic synthesis. I did get a chance to finish the program that could have helped me get into university, but by then we were already planning our move to Canada. To prepare for our immigration interview my parents bought our first computer. My dad wanted to learn some CAD software relating to his engineering, but for me, it was my first introduction to computer music. It was a very slow computer, a Pentium 1 with a whopping 133 MHz processor and 16 MB of ram and Windows 95. I remember this because it was quite a challenge to run anything on it. When I was around 14 years old I came across this very basic music making software called Dance eJay, it had a playlist type setup where you placed some pre-made loops that all fit together into a composition. It was pretty limited but I could chop the loops in all kinds of ways and still come up with some pretty cool (so I thought) sounding tunes. That's when I really became interested in electronic music. Not long after that we were selling everything and preparing for our move to Canada so the old computer had to go too. Once we moved I was still considering a career in a medical field, but music started to take over my life. I attended my first underground rave at 16, and I fell in love with electronic music. Seeing DJ's up in the booth commanding the crowd really made me want to do that too. I immediately started saving for my own set of turntables. Digital was not around then so I would spend any spare time digging through crates at the local record shop picking up my first records that I would eventually play at my first gig. I was still in high school when I started DJ'ing at raves and so it really shaped my taste in music. When I finished high school I decided to stay true to my passion and chose to go to an audio recording technology college.
Do you experiment a lot with different music styles and genres, or do you tend to stick to a particular genre?
Originally I would only produce electronic music. I enjoyed listening to all kinds of music, but I felt like I wasn't musically savvy enough at the time to explore composing other styles. Growing up, my dad introduced me to rock music, AC/DC, Metallica, Led Zeppelin and so on. Hip-hop was on the rise during my high school years so I listened to quite a bit of that also. Oddly enough, I also enjoyed classical and orchestral music. I loved movie soundtracks too. The first Matrix movie had just come out and I remember the soundtrack by Rob Dougan called "clubbed to death" was absolutely amazing as it combined orchestral and electronic elements which were pretty forward-thinking at the time. I think that's why I like to experiment with combining different genres in my music also. Nowadays I tend to experiment even more since I'm getting comfortable writing more complex movements and understanding how to speak through music.
As a music composer myself, I find sometimes that I'm listening to a piece of music that really inspires me and I start out thinking "I'd like to try to make something like that", but when I actually start to produce my own piece, it actually ends up taking its own direction and developing into something quite different from what I had in mind when I started. How does this compare to your creative process?
I do also get inspired by the music I listen to. Often times you do have to simply let the music write itself. Sometimes I have different versions of the same idea, branches of sorts, saved and then I keep shaping whatever one I feel like the track calls for most. I write a lot of electronic music, so I have a lot of concepts of small grooves or melodies that I come back to and develop further. I get inspired by the sounds of my synths. I love to just play around with different waveforms and effects until I make something worth saving. Every once in a while, when the inspiration strikes, I just sit down and make a track from start to finish. Sometimes I have nothing to show at the end of the day but I still feel like I learned something, or tried something new, so it's never a day wasted.
I've seen your name connected with the artist name "Klone Z" or "KloneZ" – can you tell me about this, and what is this artist? Is it just another name for Dmitri Belichenko?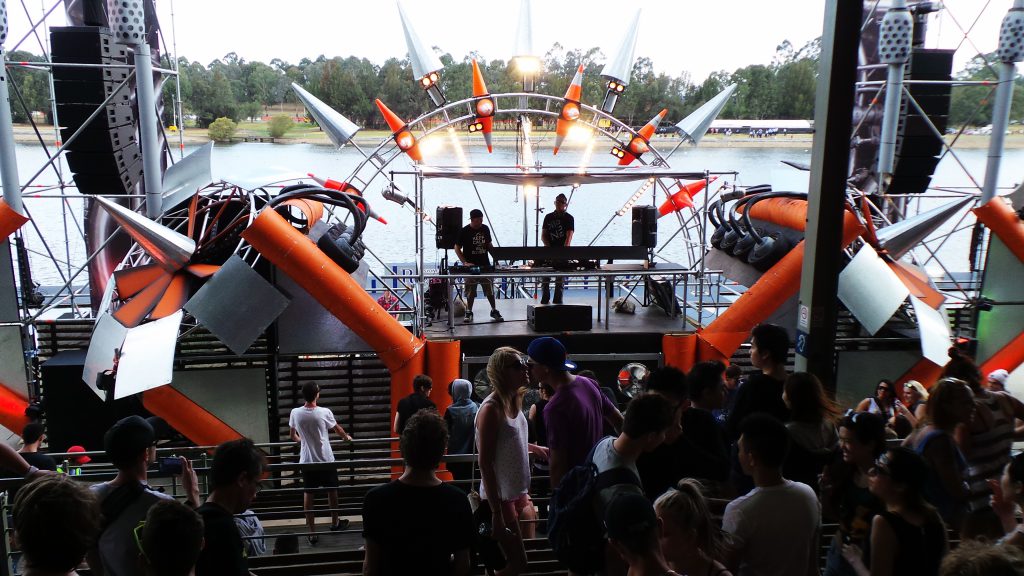 Well, "KloneZ" was my DJ name at first, before I started releasing any of my own music. I kept this name as my alias for my electronic music. It was actually a name that my friend and I came up with back in Ukraine, it was what we called ourselves when we collaborated on our first attempts at music production. We were both the same height (6'7") which is pretty tall, so we'd always stick out in a crowd. People would say that we're like clones and so that turned into "KloneZ". Before I started releasing any tunes I asked my buddy if he didn't mind me using this name as my alias. I wouldn't say it's just another name for Dmitri Belichenko, as KloneZ has been used mostly for my electronic music and is also my DJ name.
Do you always work alone and produce your music by yourself? Or do you sometimes collaborate with other musicians and try to create something together?
I like to collaborate with different artists, I think it brings out a great variety to anyone's sound. It's easy to get stale and fall back on the production techniques you know and feel most comfortable with. I feel like collaborating with different artists helps me find more angles to attack the music production from, and learn new skills. I've never actually sat down with someone to produce a track together however, I collaborate online with artists from all over the world. So for me, it's still a solitary experience but the creative aspect of it does feel collaborative as we bounce different ideas back and forth to create our tune.
We already know that you compose and produce music for stock music libraries such as Shockwave-Sound.com, but have you also made bespoke music especially for a film, game or other media, where you actually composed music specifically for the project?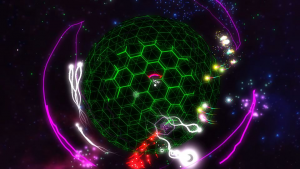 Writing for Shockwave-Sound has opened many doors for me. I wrote music for several short films and a TV show called EdgeFactor, I also did a few indie video games. I'm actually working on one now where the music is a big part of the game. The game is called BeatPlanetMadness (BPM) and is in beta testing (not sure if this will be the official name once it's released). It's being designed by an indie game studio "Dog eat Dog games" and is a pretty clever twist on an arcade shooter where you have to time your shots with music in order to pull off special abilities. The better you do in the game the more layers of music are added to the soundtrack. All the enemies and abilities are also adding to the soundtrack as little bits of melodies so it actually ends up being quite a fulsome sound as you progress through the game. All of the game's sound effects and music is created by me, so I'm pretty excited about this project. Other than that I always have media projects and tv commercials to work on, which keep my days pretty interesting.
So, having your music represented at Shockwave-Sound.com has actually led to clients contacting you personally with requests for writing custom-made soundtracks for them? Has this happened on other occasions as well, in addition to this VIVO game?
Shockwave-Sound.com is a great platform for releasing my music. Since I started with Shockwave-Sound I had my music used in a number of video game trailers, movie trailers as well as in-game music, and soundtracks in tv shows and films. Sometimes videographers, after finding my music on Shockwave-Sound.com, will contact me for custom soundtracks in their multimedia projects. From there it helped me build my portfolio of custom work. I feel like releasing my music at Shockwave-Sound helps it find its way in all sorts of projects.
Can you tell us something about your recording setup, e.g. main pieces of hardware and software that you use for your composing and recording sessions?
I run a Windows-based workstation, with a Lexicon audio interface. Most of my music is created in the box, but recently I started adding a few hardware synths to broaden my sound a bit. I love using the Arturia's MicroBrute analogue synth for my bass, it's been my go-to staple. There's no way to save presets on it, so you get to be quite creative with it every time you start manipulating waveforms. I recently got a Microkorg XL, I like the way it sounds, and I really dig the software editor that comes with it, so it's been a great synth for leads and pads. These are not expensive top shelf synths, but since I did everything in software before I decided to start small and see how it would shape my sound. I mostly write in FL Studio, I've been using this software since I was about 15 years old so I'm very comfortable in it. I use a lot of EastWest sample libraries, especially love their pianos. My latest addition is the Xfer Serum soft synth, I absolutely love this thing. It's a wavetable synth so I've been creating my own wavetables using MicroBrute and it's really sounding quite phat.
What are your favourite artists for when you just want to listen to good music?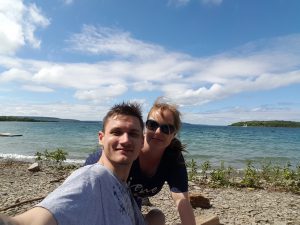 I've been into Hard Dance and Hardstyle since my early electronic music days. I used to listen to a lot of artists in that genre, Scott Project, ASYS, Headhunterz, and I still do listen to their stuff. I also love Deadmau5 productions, his sound is really quite clean and tight, I just saw him live in concert with his cube 2.1 visuals which was pretty sweet. Noisia also has incredible sound design and production quality, so I listen to them quite a bit. I also enjoy softer electronic music like Kaskade and Bonobo. I started digging into a bit of techno, so anything out on Drumcode which is a Swedish techno label is likely to end up on my playlist. Besides electronic music, I also enjoy alternative like Ben Howard, or hip-hop like the Living Legends. I listen to trailer music too, Two Steps from Hell, Really Slow Motion, have some pretty epic tracks so these are often good for my morning workouts.
So you use the mornings to work out? What sort of stuff do you do for exercise, and do you feel exercising and staying in shape physically helps you in your creative process as well, for writing music?
I think it's a great way to start my day. It does clear my head and I feel energized and ready to work. I usually go through my 20-30 minute morning routine and have a few minutes of silence before I get in the studio. I think it does help me get into a good mindset. Sitting at the computer desk all day does have its dangers, so some activity in the morning helps me feel better mentally and physically.