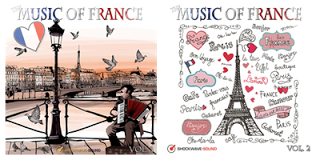 We've had so much fun over the past several months, composing, recording and producing not one, but two full albums of French and France / Paris inspired music. With "The Music of France, Vol. 1" featuring 13 original music tracks and "The Music of France, Vol. 2" featuring no less than 22 tracks of various French folk / traditional French music as well as some original compositions in a very cheeky French style, these music collections can only be described as "goldmines" for anybody working on a media project that needs that "sound of France".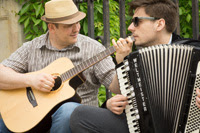 For "The Music of France, Vol. 1" we got in touch with Aleksander Grochocki and Patryk Walczak, or just Pat & Olo, who went to work and between them composed and delivered 13 delightful French tracks, ranging from the classical "musette" style, to passionate waltzes and foot-tapping Hot Club of France style gypsy jazz tracks. All original compositions, all recorded live in studio with Pat on accordeon, and with Aleksander on guitars, bass, percussion and "various". It's safe to say that we are très satisfaits with the results. Just take a listen to that album and you'll be whisked off to Paris in a heartbeat.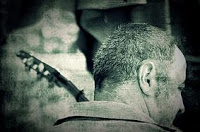 For "The Music of France, Vol. 2" there was no better guy to go to, than Jerome Lamasset. Already a collaborator and contributor here at Shockwave-Sound since all the way back in 2000, Jerome is an experienced composer, arranger and eager student of French music. He took a slightly different approach to the project, opting instead to go for more traditional, well known French melodies. Perhaps more than most countries, France has a wonderful culture of traditional music, French nursery rhymes and folk songs for which the original composer is unknown. These famous pieces of French musical culture have been passed down from generation to generation, including such timeless tunes as Alouette, Le Temps de Cerises and many others. Jerome rearranged and re-recorded these tracks in creative ways and created sometimes cheeky, humorous or just lighthearted versions.
Jerome also composed additional tracks himself, his own original compositions with a very quintessentially French sound. Again, these are quite tongue-in-cheek. The track Allongèe Pres de Toi was actually composed as a replacement for the very famous French track Frou Frou, which is under copyright and cannot be used as stock music. So Jerome went with his own composition instead, which we happen to think is much better.
All in all, on these two albums, we have published 35 tracks of French music tracks this week, and we can't help but be proud of these releases. Here are just some ideas for projects in which this music will work wonders:
Travel videos and travel shows with France / Paris destinations.
Historical and cultural TV programs, websites or YouTube films.
Apps and games that seek either a French, or a cheeky / humorous sound.
Comedies and candid camera type productions.
Retro 1960's and 1970's productions, perhaps with a "French cinema" approach.
Fairground / Fun Fair, and Circus productions.
And more!
Remember — as with all our CD-collections / albums, all tracks are also available individually. You don't need to license the whole album if you only need one track. If you just want one track, simply search for the track title in the "Quick search" box on our site, and the track will come up in search results.
Enjoy… Et bonne journée!