Music collection: The Edge, Vol. 16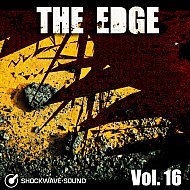 This product is 24-bit enabled.
Another hard biting, sharp edged collection of music that threatens the borders between Rock, Metal, Dubstep, Electro, Glitch and Breakbeat, to create a gritty, edgy, dark and some times violent setting.

This music goes well with bad-asses and crime-ridden cities, hard-edged sports footage, macho / testosterone-fueled action and preparation, stand-offs and gritty scenes... just to name a few potential uses for these tracks.

This collection features 11 tracks available in many different edits, cuts, versions, mixes and loops, giving you great options in editing. All in all, there are 118 audio tracks included (from 11 different compositions), including full versions, underscore versions, Stingers and Loops, 60-secs versions and 30-secs versions.

The price of the music collection includes a license to use the music commercially and in public, as per our License.

Formats: The download is a 274 MB .zip file containing the audio tracks in true CD-quality MP3 files (320-kbps, 44.1 khz) and the seamless loops in CD-quality, uncompressed WAV files (16-bit, 44.1 khz). The physical disc is a DVDROM for PC or Mac, containing all tracks and loops as uncompressed WAV files at both High Definition (24-bit) and regular CD-definition (16-bit, 44-khz). Total ~2.6 GB.

Please note that the DVDROM is a disc for use in PC or Mac computers, with computer files on it. It is not an Audio-CD, and does not work in a stereo/hi-fi system, your car CD player etc. However, you can copy the WAV files to your hard drive, and then use those WAV files to burn an Audio-CD in your own CD/DVD-burner.
This product contains music that is PRO-registered. (What's this?)
Stock Music collection The Edge, Vol. 16
Shockwave-Sound.com
P873
Tracks