Music collection: Soft Explorations, Vol. 5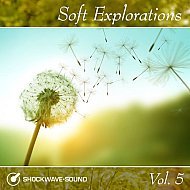 This product is 24-bit enabled.
A wonderful collection of heartening, warm and inspiring tracks.

These tracks are highly suitable for reflective, heartwarming and family-friendly productions such as videos, commercials, games and apps, -- or simply as background music, to create a snug, welcoming and warm atmosphere, filled with feelings of love and belonging.

Each track is available in multiple different versions, edits, mixes, seamlessly looping "music loops", underscore versions and so on -- to give you great options when editing the music to your media. All in all, there are 105 music files (from 11 different main compositions).

The price of the music collection includes a license to use the music commercially and in public, as per our License.

Formats: The download is a 287 MB .zip file containing the audio tracks in true CD-quality MP3 files (320-kbps, 44.1 khz) and the additional seamless music loops in WAV files (16-bit, 44.1khz). The physical disc is a DVDROM for PC or Mac, containing all tracks and loops as uncompressed WAV files at both High Definition audio (24-bit, 48 khz), and regular CD-definition audio (16-bit, 44.1.khz) (Total ~1.9 GB).

Please note that the DVDROM is a disc for use in PC or Mac computers, with computer files on it. It is not an Audio-CD, and does not work in a stereo/hi-fi system, your car CD player etc. However, you can copy the WAV files to your hard drive, and then use those WAV files to burn an Audio-CD in your own CD/DVD-burner.
This product contains music that is PRO-registered. (What's this?)
Stock Music collection Soft Explorations, Vol. 5
Shockwave-Sound.com
P838
Tracks