Sound-FX collection: Boom Magic: Construction Kit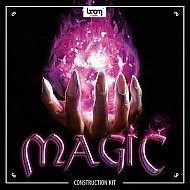 This product is 24-bit enabled.
This collection of magical sounds has all you need to create an exciting audio experience for all of the spells you have in mind. Be it warm and powerful white magic or some evil and destructive black magic. Edit the sounds exactly the way you like & thereby creatively enrich the spectrum of supernatural.

This extensive collection gives you all the freedom to imagine and create magic like you have always dreamt of. Get more than 2.300 unique sounds like sizzling, sparkling, explosions, fire whooshes, water splashes, ice crackles, bubbles, chimes, humming, wobbling, squeaks, choirs, drones and even more.

This Construction Kit ships as a complete 3 DVD set with more than 10GB of basic source sounds. To provide you with the fastest and easiest workflow possible all files contain extensive metadata.

Key Features
Library ships in 96kHz/24bit High Definition Audio
Unbeatable variety of sounds
Over 2.300 sounds in more than 430 files
Effective workflow: well-grounded Soundminer Metadata

430+ files, 2.300+ sounds | 96kHz/24bit, WAV


Click here to download full product track listing in PDF format.

Download links provided immediately after purchase. (3 zip files of approx 2.0 - 3.5 GB each). Physical delivery on DVD-ROM available for a small additional fee to cover media and shipping. This is chosen during the checkout process.
Royalty Free Music collection Boom Magic: Construction Kit
Shockwave-Sound.com
P606
Tracks