Sound-FX collection: Boom Cinematic Hits: Construction Kit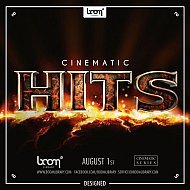 This product is 24-bit enabled.
Over 1.800 excellent and high quality source sounds give you everything you need to create absolutely stunning and top notch hit and impact sounds from the scratch. This library provides you with sounds of epic drums, massive metal, wood and deep rumbles. Take advantage of perfect clarity at high frequencies as well as ground-shaking low frequencies.

Each file contains six variations of a sound to provide you with more flexibility. All of the recordings are delivered in 96kHz/24bit, giving you the best quality for heavy editing, pitching and fx processing while keeping a top notch level of clarity and precision. To provide you with the fastest and easiest workflow possible all files contain extensive metadata.

Use it as a stand-alone collection or combine it with our CINEMATIC METAL and CINEMATIC TRAILERS libraries to create all kinds of stunning and unique production element sound effects.

Key Features


Library ships in 96kHz/24bit High Definition Audio
HITS, IMPACTS, SUB BOOMS, ENDINGS
Over 1.800 sounds in more than 300 files
Effective workflow: well-grounded Soundminer Metadata


340+ files, 2.000+ sounds | 96kHz/24bit, WAV


Click here to download full product track listing in PDF format.

Download links provided immediately after purchase. (3 zip-files of approx 1 - 1.5 GB each). Physical delivery on DVD-ROM available for a small additional fee to cover media and shipping. This is chosen during the checkout process.
Royalty Free Music collection Boom Cinematic Hits: Construction Kit
Shockwave-Sound.com
P602
Tracks