Sound-FX collection: Boom Cinematic Darkness: Construction Kit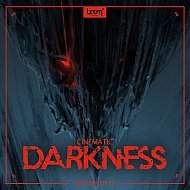 This product is 24-bit enabled.
You love creating unique sound and expressing your very own style through your individual soundscapes? You've visited so many murky places in your imagination but you're still lacking the suitable audio? You're lucky – this one's for you: The CINEMATIC DARKNESS CONSTRUCTION KIT delivers you high-quality source sounds which have only been waiting to fall into your creative hands. This collection is the ideal tool kit for any dark scene you can think of in a trailer, movie, presentation or game - these sounds cut a memorable figure.

This collection bursts at the seams: with more than 1.950 (*) brilliant HD sounds of all kinds of gloomy madness, CINEMATIC DARKNESS puts the power in your hands: noise terror in the form of BASS DROPS, BLASTS, DRONES, GLITCHES, IMPACTS, RISERS, SCREAMS, STUTTERS, TENSION and WHOOSHES is right within your reach. We created these sounds by means of genuine analog devices to deliver you real sound treasures. We made use of some really rare and vinatge devices such as the Ampex AG-440 analog tape recorder from 1969, the NED Synclavier, Yamaha CS-60, Rhodes Chroma, E-Mu Emulator II, – just to mention a few of them. On the side of compressors, filters and fx, we used the Lexicon 224 Reverb, Publison Infernal Machine 90, Rockruepel Comp 1 which was limited to 50 pcs worldwide, Eventide H8000FW and many more to design the unique sound we had in mind. Treat those sounds with your own kind of dark character and grow into excellence.

(*) To specify, the product contains 325 sound files but each file contains multiple variations of each sound. Cut and paste, copy and crop, use the variation(s) that work best for you.

All of the recordings are delivered in 96 kHz, 24-bit, giving you the best quality for heavy editing, pitching, and fx processing while keeping a top notch level of clarity and precision. To provide you with the fastest and easiest workflow possible all files contain extensive metadata. Use this library as a stand-alone or combine it with one of our other CINEMATIC libraries to have even more flexibility: TRAILERS, METAL or HITS are full of breathtaking SFX.

325+ files / 1950 sounds, 10+GB
96kHz/24bit


Click here to download full product track listing in PDF format.

Download links provided immediately after purchase. (5 zip-files of approx 2 GB each). Physical delivery on DVD-ROM available for a small additional fee to cover media and shipping. This is chosen during the checkout process.
Royalty Free Music collection Boom Cinematic Darkness: Construction Kit
Shockwave-Sound.com
P600
Tracks