Music collection: Ethnic Ambiences, Vol. 3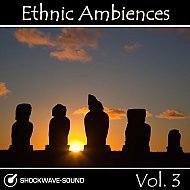 This product is 24-bit enabled.
An amazing collection of music tracks based on Ancient history, World mysteries and intriguing, ethnic secrets.

The music on this collection is atmospheric, mystical, with a strong sense of ancient cultures, world heritage and age old mysteries. Whilst not really tied to any particular country or region, the tracks carry a sense of the Native, Indigenous, sometimes Primal, yet also with a strong sense of historical civilizations.

This collection is a veritable gold mine for those working on projects involving dark, world, mysterious, ethnic, travels & adventure projects, as well as Historical / Cultural / Natural history etc.

Formats: The download is a 279 MB .zip file containing the 68 music files (from 11 different main compositions) in true CD-quality MP3 files (320-kbps, 44.1 khz). The physical disc is a DVD-ROM for PC or Mac, containing all tracks uncompressed WAV files at both High Definition 24-bit audio * and normal CD-quality 16-bit, 44.1-khz files. (Total ~2.6 GB)
(* One track, "Desert Nomads" is 'only' available in CD-quality 16-bit, 44.1-khz WAV file. The other 10 tracks are also in High Definition 24-bit WAV files).
Please note that the DVD-ROM is a disc for use in PC or Mac computers, with computer files on it. It is not an Audio-CD, and does not work in a stereo/hi-fi system, your car CD player etc. However, you can copy the WAV files to your hard drive, and then use those WAV files to burn an Audio-CD in your own CD/DVD-burner.

The purchase price includes a license to exploit the music commercially, as per our License Terms.
This product contains music that is PRO-registered. (What's this?)
Stock Music collection Ethnic Ambiences, Vol. 3
Shockwave-Sound.com
P835
Tracks