Music collection: Electro-Tech Vol. 10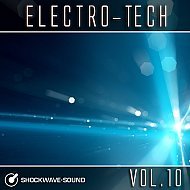 This product is 24-bit enabled.
Sizzing electronics, cutting-edge technology, robotics and life in the digital fast lane...

Sweeping and swirling, pumping and oozing, sparkling and pulsating, these tracks provide energy and an exciting and energizing "tech edge" to any visual media. The tracks draw on various electronic / techno subgenres including techno, drum & bass, tech step, electronica, dance / club and trance.

The purchase price includes a license to exploit the music commercially, as per our License Terms.

11 different main compositions are included; each one available in various different cuts / edits / mixes / versions and seamless music loops -- making up a total of 93 music files.

Formats: The download is a 298 MB .zip file containing the audio tracks in true CD-quality MP3 files (320-kbps, 44.1 khz) and the seamless music loops in uncompressed 16-bit 44.1-khz WAV files. The physical CD is a CDROM for PC or Mac, containing all tracks and loops as uncompressed WAV files in both High Definition 24-bit and in regular CD-quality 16-bit, 44.1-khz. (Total ~2.5 GB).

Please note that the DVD-ROM is a disc for use in PC or Mac computers, with computer files on it. It is not an Audio-CD, and does not work in a stereo/hi-fi system, your car CD player etc. However, you can copy the WAV files to your hard drive, and then use those WAV files to burn an Audio-CD in your own CD/DVD-burner.
This product contains music that is PRO-registered. (What's this?)
Stock Music collection Electro-Tech Vol. 10
Shockwave-Sound.com
P831
Tracks