Sound-FX collection: Boom Silencers: Construction Kit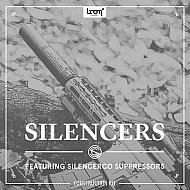 This product is 24-bit enabled.
With the SILENCERS CONSTRUCTION KIT, you get our multi-channel source recordings so you can balance and mix the sounds just the way you want to. It contains more than 10GB and comes with rich weapon variety: 8 pistols, 11 assault rifles, 6 rifles, 4 shotguns and 2 submachine guns, including for example the pistols Glock 23, Walther PPK, HK USP 9, the assault rifles AK47, HK 416, Sig 556, CZ Scorpion, the submachine gun HK MP5, the shotgun Benelli M2 and many more. You can check out the list of weapons below. Additionally, you also get lots of bullet drops, bullet pings, handling, mechanics, ricochets, ricochet fly-bys, tails and whiz-bys to not miss any sound when designing your suppressed weapon sounds for your projects.

All of the recordings are delivered in 96 kHz, 24-bit, giving you the best quality for heavy editing, pitching, and FX processing while keeping a top notch level of clarity and precision. To provide you with the fastest and easiest workflow possible all files contain extensive metadata.

Key Features
31 weapons
18-channel multitrack recordings
Including bullet drops, ricochets, whiz-bys and more
Effective workflow: well-grounded Soundminer Metadata

650+ files, 10GB+ sounds | 96kHz/24bit, WAV


Click here to download full product track listing in PDF format.

Download links provided immediately after purchase. (2 zip files of approx 1.9 GB each). Physical delivery on DVD-ROM available for a small additional fee to cover media and shipping. This is chosen during the checkout process.
Royalty Free Music collection Boom Silencers: Construction Kit
Shockwave-Sound.com
P608
Tracks