It's almost Christmas time again and we can see that time coming, as people start buying royalty free Christmas music from our catalogue. Tracks like "We Wish You a Merry Christmas", "Jingle Bells", "Silent Night" and "O Come All Ye Faithful" are so popular that many of our composers have made their own versions of these, from the straightforward and cosy to the cool and funked-up, to the downright silly. We also have a lot of Christmas music that aren't actually traditional or well-known tracks, but that are new, original compositions made by our own composers in a Christmas style. We call this area New & Fun Christmas Music so if you're looking for something a little bit different for this year's Christmas presentation or electronic Christmas greeting card, you may want to check out those tracks.
But where are the other famous Christmas classics, such as Let it Snow, Let it Snow, Let it Snow and others? What about Walking In A Winter Wonder Land? Why don't we have it? We get customers writing in and asking about these tracks and about why they can't find them on our site. It seems odd for us to have 66 search results for "Jingle Bells", but nothing for other famous Christmas classics like the two I just mentioned and Frosty the Snowman? What's up with that?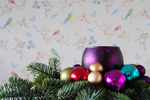 The simple answer is, that these "missing" Christmas tracks are under copyright and therefore cannot be offered up as royalty free music / stock music / library music, by anyone. In contrast to "We Wish You A Merry Christmas" and "Jingle Bells" where the actual compositions are in the public domain, and only the recording and arrangement is in copyright to who ever actually created that recording — these other tracks including Frosty the Snowman have the actual composition still under copyright to the authors and their publishers. Therefore, these tracks cannot be done up as royalty-free music and this explains why you can't find them here, or indeed on any other music licensing website:
Frosty the Snowman
Holly Jolly Christmas
Let it Snow
Santa Claus Is Coming To Town
Walking in the Winter Wonderland
Rocking Around the Christmas Tree
…and others
We are a little bit bummed out about this, because several years ago we actually spent quite a lot of time and energy on making our own arrangements and versions of these tracks, and we have some pretty good recordings of these tracks that we've played and made ourselves. We wrongly assumed that these compositions were public domain until just before we were going to start selling them from our site.
Anyway, for those of you who were looking for this, and possibly other Christmas tunes that you can't find on our site — that is the explanation. Merry Christmas!