Good quality, royalty free classical music, is hard to come by. That's just a fact.
Why? Because hiring an orchestra, with studio time and engineer, is extremely costly and time consuming. It's a process that requires meticulous planning and preparation and costs "a small fortune" to get it done.
In the "stock music scene" there have been various sources of so-called royalty free classical music, of dubious origin. On some "free for all, self-uploading" websites, you can find classical music recordings that almost certainly don't actually belong to the person who uploaded them, but rather sourced from some published CD, and belonging to another company.

If "some guy" is uploading fully orchestrated recordings of classical masterpieces, you need to ask yourself if that guy really spent the time, effort and money (possibly several hundreds of thousands of dollars) on getting that music recorded, so that he could sell it for $15 at a stock media site that allows a free-for-all self-uploading of content for sale. It goes without saying, that recording is not going to be safe, copyright wise.
Here at Shockwave-Sound.com we have also been exposed to these "unsafe" recordings, likely to be copyrighted to some company who doesn't know that their recordings are being uploaded to stock music sites.
Instead, we focus on getting a smaller volume of recordings done, but to have them done from scratch, exclusively for our company. At the time of writing, we have 74 such exclusive classical recordings that we ourselves have organized and got recorded for us on a work-for-hire basis. We are adding to that regularly, so by the time you read this, we may have many more. These recordings are not for sale through any other stock music / royalty-free music website.
This week we decided to put some of these tracks together onto CD-collections. We have released 4 new Royalty-Free Classical Music albums this week, with the following track listings:

Satie: Gnossiene No 1
Satie: Gymnopedie No 1
Sousa: Semper Fidelis
Tchaikovsky: Dance of the Sugar Plum Fairy from the Nutcracker
Tchaikovsky: Nutcracker Chinese Tea Dance
Tchaikovsky: Nutcracker Dance of the Mirlitons
Tchaikovsky: Nutcracker March
Händel: Sarabande
Purcell: Trumpet Tune
Schubert: Ave Maria
Vivaldi: Four Seasons Spring RV269 Movement 1 Allegro
Vivaldi: Four Seasons Spring RV269 Movement 3 Allegro pastorale
Vivaldi: Four Seasons Winter RV297 Movement 1 Allegro non molto
Vivaldi: Four Seasons Winter RV297 Movement 2 Largo
Chopin: Minute Waltz
Holst: Saturn from The Planets Suite
Sousa: Liberty Bell
Sousa: The Thunderer
Scott Joplin: The Entertainer
Saint-Saens: Aquarium from Carnival of the Animals
Strauss: The Blue Danube
Tchaikovsky: Swan Lake Act 1 Finale
Bach: Air On the G String
Bach: Jesu Joy of Mans Desiring
Bach: Wachet Auf aka Sleepers Awake BWV 140
Beethoven: Symphony 5 Movement 1
Elgar: Pomp and Circumstance March 1
Händel: Entrance of The Queen of Sheba
Händel: Hornpipe from Water Music
Holst: Jupiter from the Planets suite
Those were the 4 new releases we've put together this week. We already had the individual tracks in our catalog and have been acquiring them over a longer period of time, but it was only this week that we put them together into "CD-collections".
From previously, we also have these two:
Lanner Steyrische Tanze
Strauss An Der Schonen Blauen Donau
Strauss Annen Polka
Strauss Der Zigeunerbaron Overture
Strauss Die Fledermaus Overture
Strauss Dorfschwalben aus Osterreich
Strauss Gschichten aus dem Wienerwald
Strauss Kaiser Waltzer
Strauss Pizzicato Polka
Strauss Radetzky Marsch
Strauss Tritsch-Tratsch Polka
Strauss Unter Donner und Blitz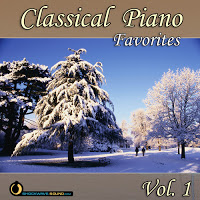 Classical Piano Favorites, Vol. 1:
Bach Prelude in C major BWV846
Beethoven Pathetique Sonata 2nd movement Adagio cantabile
Chopin Mazurka in A minor op. 17 no. 4
Chopin Mazurka in C sharp minor op. 63 no. 3
Chopin Nocturne in E flat major op. 9 no. 2
Chopin Nocturne no. 20 in C sharp minor op posth
Chopin Prelude in E minor op. 28 no. 4
Chopin Raindrops Prelude op. 28 no. 15
Liszt Consolation no. 3 in D flat major S.172
Mendelssohn Song Without Words in E major op. 19 no. 1
Mozart Piano Sonata no. 12 K332 2nd movement Adagio
Schubert Impromptu in G-flat major op. 90 no. 3 D899
Schubert Moment musicaux in F minor no. 3 op. 94 D780
Schumann Dreaming from Scenes from Childhood op. 15 no. 7
Scriabin Etude in C sharp minor op. 2 no. 1
Tchaikovsky June (Barcarolle) from The Seasons op. 37a no. 6
We hope you enjoy the music, safe in the knowledge that they can be licensed for use in media and in public, without fear of copyright infringement.