This summer has been a particularly busy time for us here at Shockwave-Sound.com and over the past three weeks alone, we have been able to publish four new albums, as pictured above. From
rock
'n roll to folky fun, to horror music and imaginary, textural music for film and drama, we've covered several completely different categories over these past few weeks and we had a lot of fun putting out these albums.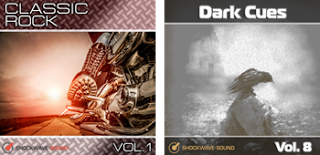 Let's take a look:
Classic Rock, Vol. 1: An album of music harking back to the days when rock'n roll was just that – rock'n roll. None of this "modern", grunge, alternative or whatever — this is just great rock music that will hit the right note with a large audience. Think Led Zeppelin, ZZ Top, Rolling Stones, AC/DC, Creedence Clearwater Revival and Lenny Kravitz. Hints of Blues and Southern Rock are also present. This music will go really well with media featuring all things "men and macho" as well as "rock chicks" type material, motorbikes, workshops, sports and much more.
Dark Cues, Vol. 8: This album features 12 creepy, cold and eerie tracks of horror, mystery and suspense. It's not pretty, it's very dark, very damp and could well send some chills down your back. It seems that the horror genre, both in film, video game and audio books, is as popular as ever, and people from home / bedroom producers to top Hollywood studios and everything in between are producing new horror content. I believe "American Horror Story" is one of the most popular TV shows right now. If you need a good selection of music for your own horror / thriller project, then you could do a lot worse than licensing this chilling music collection.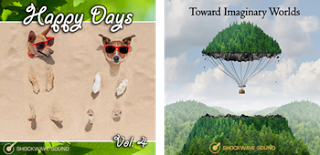 Happy Days, Vol. 4: Continuing our "Happy Days" series of cheeky and fun tracks for all kinds of positive, quirky media — be it one of those quirky, slightly comical commercials, or one of those cute, child friendly mobile games. Note that I choose to describe this music as fun but not quite into funny territory. It's not "comical" music as such. I mean, it's a bit tongue-in-cheek and definitely happy. Bright, bouncy even. But not exactly comedy music. I hope this makes sense. You can imagine this music being used in a fun, feelgood advertisement campaign, or in many other types of projects. Ukulele features heavily, as does bells, piano, acoustic guitar and more.
Toward Imaginary Worlds: I'm not going to write too much about this album for now, because this is such a great and special release that we are planning to do a whole "feature" on it and its composer, Francesco Giovannangelo. This music is highly imaginative and artistic; it draws on classical and neo-classical music, as well as ambient and other genres, to create a form of transparent, "musical painting" type soundtrack that is highly suitable for use in film, drama and television. Keep your eyes on this blog for a more in-depth discussion of this album, with an interview with the composer/producer. I hope you'll find it interesting. For now, you may want to just listen to the music on this great album, and imagine the music used in your own media projects.
We hope you enjoyed this little run-through of our latest 4 releases. More new stuff will follow soon! We're constantly developing and publishing new album of great royalty free music / stock music. Thanks for reading!