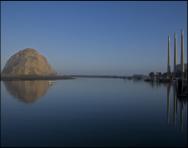 Photographer and videographer Harry Sloan from California has made a really nice DVD featuring our music. He has made 12 individual "video paintings" from the beautiful Morro Rock and Morro Bay California area, and set them to our music.
We can recommend this video for anybody who have been lucky enough to visit these beautiful areas, as well as for locals and really, for anybody who likes to watch beautiful things, while listening to beautiful music. We can see this video DVD working well as an "interior design" video, simply for playing in your house, to create ambiance – as an alternative to other art.
The DVD features 12 videos, each one playing for 5-10 minutes each. (80 minutes total). The videos are also available to purchase as individual video downloads for $1.00 each.
Here's a YouTube presentation / preview of the video. We really like the way Harry incorporated our royalty-free music with his work.