HOW TO CREATE A SLIDESHOW FROM PHOTOS WITH ROYALTY-FREE MUSIC: STEP-BY-STEP TUTORIAL
Engaging slideshows can be a useful tool for presenting your product and your company's latest news. By adding appropriate music, you can create the right mood or evoke particular emotions – be it joy or sadness. Most users choose Canva for making eye-catching slideshows quickly and easily. In this article, you will learn how to build unique visual content from your photos using this popular software.
1. Launch Canva

You can start working with Canva right after opening the website by clicking on "Make a Slideshow". However, to access your projects in the future, you need to be logged into your account. Go to the "Slideshows" section and start creating your content.
Canva has completely free tools for your needs. You can create and save as many projects as you want. This free slideshow maker with music does not add watermarks to your slides. Moreover, it is compatible with almost any device.
2. Find the Right Template

You can build your presentation from scratch or take advantage of our excellent set of templates. If you are interested in the second option, you need to choose the template and edit it. Alternatively, you should click the "Create a blank Slideshow video" when you get to the "Slideshow Video" template page.
The template library contains options for different themes. You can speed up the search for the right one by applying a filter by industry, layout, or style. The collection contains templates for wedding, birthday, work events, holidays, and other ideas. Developers regularly add new layouts and styles. Once you find what you need, add a template by clicking on it.
3. Import Photos

After selecting a template, you will be redirected to the editor section so that you can modify it to suit your needs. First of all, upload your own pictures instead of those presented in the template. To do this, you need to find the "Uploads" tab in the panel and select "Upload media." You can also use images from the software's gallery. Open the "Photos" tab and choose the appropriate one.
To make your presentation look professional and polished, you should use edited shots. If your photo retouching skills are poor, you can seek help from a specialized service, like FixThePhoto. They will improve colors, fix bad lighting, remove all imperfections, and make the skin perfect.
When you import images, drag&drop them onto the template until they are in the proper place. Make sure you replace all the pictures and then move on to the next step according to this guide.
4. Customize Your Slideshow
When you're done with the pictures, complete your presentation with other design elements. Find and select the "Elements" option on the left side panel. This section contains a huge collection of illustrations, charts, icons, and other graphics to make your design more attractive. Drag and drop your desired elements into your project.
The animation will help you make your presentation livelier and fun. You can easily animate various elements, pictures, or text using the features of this free slideshow maker with music. Click the "Animate" button after you have selected the desired things. Go to the gallery and specify what page animation or text animation you will apply.
Everything will be done as soon as you click outside the "Animations" gallery. Keep in mind that too many slide transition effects or text animations may appear confusing and distracting for your viewers.
5. Type the Text
The next step is to work with the text you add to your slides. The template already contains some words. So, you need to delete them and write your sentences. You can start to edit the given text by double-clicking on the text boxes. If you don't have enough predefined text fields, you can add more by pressing "T" on your keyboard. Use the editor toolbar to adjust the text's font size, style, and color.
6. Add Royalty Free Music

It's well known that a musical backdrop helps evoke emotion in the audience and draws attention to the visual content of your presentation. So, let's find out how to make a slideshow with music and pictures for free.
Once you've added the text and image elements of your slideshow, you can insert audio. The program allows you to apply music to one slide or across multiple ones. Then, you need to select the "Play in background" option.

If you want to add background music from multiple audio tracks, you can merge all the pieces into one file using third-party audio editing software. You can import any royalty-free music, record the audio yourself, or choose from the stock songs provided by Canva.
7. Preview, Save, and Share

At the final stage, you need to check what your slideshow looks like in order to make the necessary adjustments. Use the preview tool by clicking the "Play" button. If you are satisfied with the result, you need to choose a format for saving the file. It can be an animated GIF, video (MP4), JPEG, PNG, PDF, or PPT. Alternatively, you can select the "Share" option in the menu bar. Plus, you can use a link to share the presentation online.
3 Best Slideshow Makers
You can use this slideshow app with music free of charge. Make sure to take into account such features as advanced formatting options, simple drag-and-drop UI, and easy transitions. Using the wrong software, you can waste a ton of time and effort to cope with your task. We offer you several worthy options suitable for creating slideshows on different platforms.

This program lets you create impressive projects without any hassle. It gives you access to an extensive iStock and Getty Images video library so you can select the materials you need. You can also add your own pictures and videos. The program also provides convenient tools for inserting text into your slides and the ability to add captions easily.
This free slideshow maker with music has an outstanding collection of 1.5K pre-licensed songs. Plus, you can import your own audio files. The ability to add a watermark or logo is another useful feature. Make your audience remember your brand by using corporate colors or fonts in your presentation.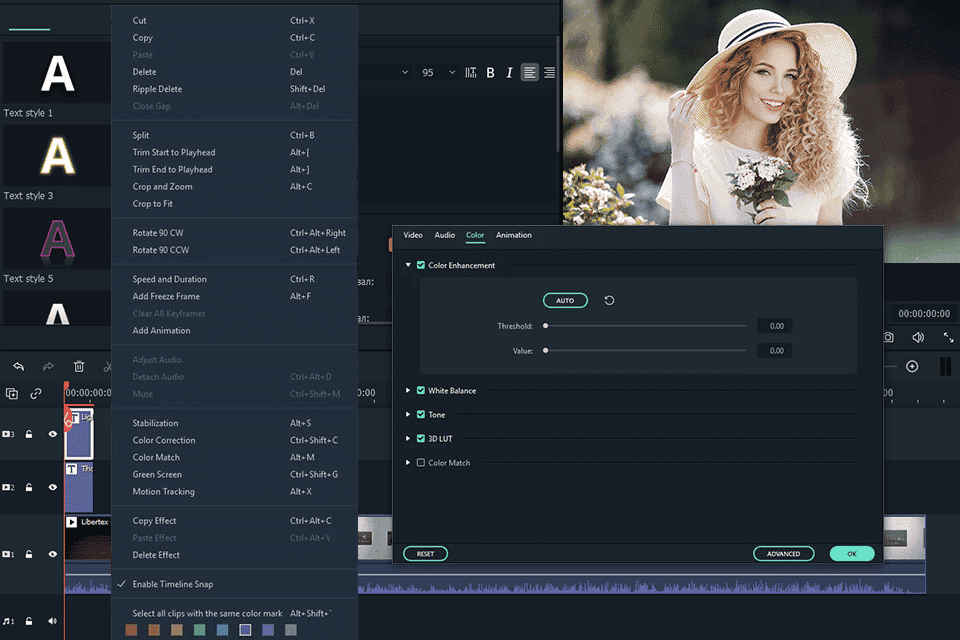 This program has an outstanding set of features and tools to handle video editing and slideshow-making tasks. It is very easy to use, so it will be a good option for both experienced users and beginners. It is compatible with Mac and Windows devices.
This slideshow maker allows you to apply transitions, songs, filters, overlays, and other elements to your projects. You can create amazing presentations by taking advantage of more than 300 effects and over 20 copyright music tracks. Once you have created a slideshow in Filmora, you can save it in one of the many available formats and/or share it on social media platforms.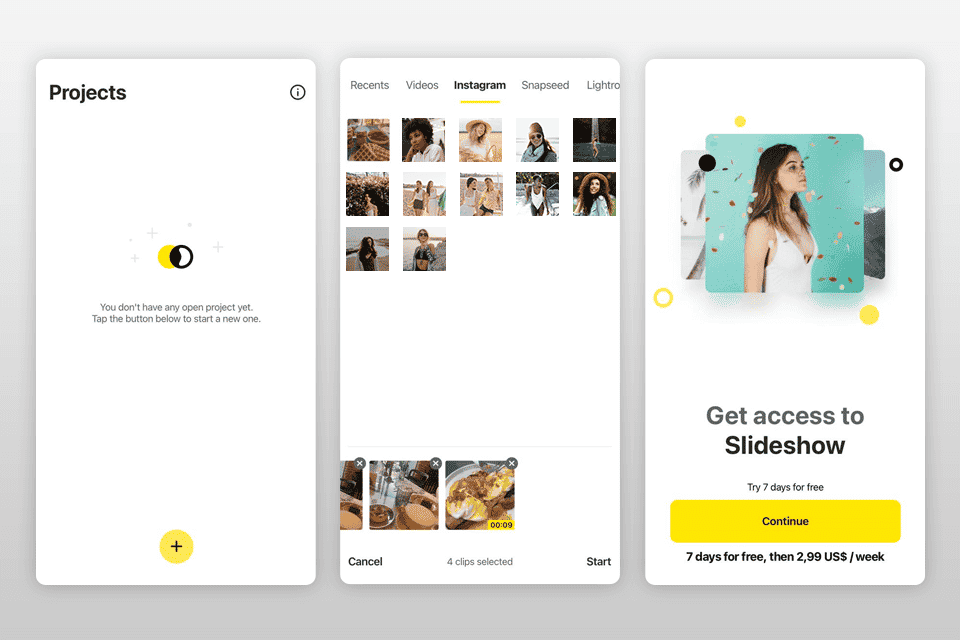 This app is useful for iPhone owners who want to create eye-catching presentations easily. It contains handy tools for enhancing the images, music, and videos you plan to add to your slides. You can adjust the time the images are displayed as well as other settings.
This app has no restrictions on the length of the presentation. Integrated music, quick image selection, and a good choice of transitions are the other advantages of this option.