This week we've had the pleasure of adding some rather different and interesting music to Shockwave-Sound.com. Christmas is coming up and, like every year, the interest for royalty-free Christmas music is peaking around October/November time – I guess that's when everybody are working on their Christmas projects, interactive Christmas greeting cards, online Flash Christmas animations and so on.

This year the creative couple Gavin Courtie & Liz Radford have completed a whole collection of recordings of traditional Christmas melodies using antique church hand bells, like the ones seen on the image to the left.
Upon hearing these wonderful bells and how nice they sounded with Christmas melodies like "Jingle Bells", "Good King Wenceslas", "Silent Night", "Joy to the World", "We Wish You a Merry Christmas" and several other classics, we decided to catch Gavin for a quick interview:
How did this whole thing come about, Gavin?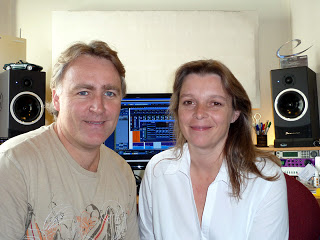 "These hand bells belong to a friend of ours here in Wimborne, Dorset, England. He's now in his 70's and has been ringing both church bells and handbells for most of his life. This set of hand bells belonged to his father, who lived in Essex, and they are English bells dating to around 100 years ago. Although some of the leather handles are slightly past their best due to age, the bells themselves have a lovely tone, which is why we thought it would be good to record them. Liz is an experienced bell ringer (the big bells in church towers..) and she's also rung this set of hand bells with a band of ringers, in orchestral settings and Christmas performances.

The arrangements we sent you are all written for a band of ringers to play, and we recorded Liz playing the parts here in our studio. Actually, ringing them is quite a skill. Most players ring 2 bells at a time, one in each hand. The cleverer ones ring up to four at a time, holding two in each hand, the trick being to ring one bell in the vertical plane, the other in a horizontal. Difficult!"
So there you have it – a little bit of background on how this really nice royalty-free Christmas music was created, and here are the links to each of the tracks in our library, if you would like to have a listen:
And with that, we do indeed wish all our customers and visitors a very merry Christmas!