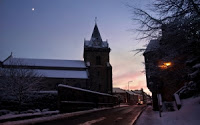 At Shockwave-Sound.com we keep adding new Royalty Free Music tracks every week, sometimes several times per week, so we aren't going to write about it here every time we post some new music, but we've added a few tracks recently that I think are a bit special, so I wanted to give them an extra mention.
The highly talented Polish composer Pawel Blaszczak has contributed a new, really beautiful track called Waiting For Tomorrow. It's a light but emotional, sincere, piano based, semi-orchestral "ambient pop" track, full of wonder, beauty and amazement. It's a "must hear" track, really!
American Jazz bassist Patrick Prouty has sent in this really nice Christmas track, O Little Town of Bethlehem. It's a folky, earthy, slightly country inspired, and actually a bit "old sounding" rendition of this Christmas classic. It made me think of the music from the film "O Brother, Where Art Thou" with it's charming, imperfect vocals and it's subdued live guitar and bass.
Those were only two of the many new tracks we added yesterday. On the main front page for Shockwave-Sound.com you can always hear the 30 latest tracks in a kind of "radio player" that plays one track after the other. We hope you'll like it.