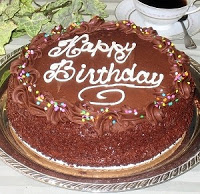 We got a call from a customer who was looking to buy the classic "Happy Birthday To You" song as
royalty-free music
. We didn't have the track and at first both the customer and myself found it a bit odd. But I found out that in fact this track is still under copyright to two old ladies in Florida and therefore, that track
cannot
be purchased as
royalty-free music
/ stock music. We would be breaking copyright if we were to offer it — even if we made our own arrangement and recording of it, because the actual composition itself is in copyright.
We have this "alternative Happy Birthday Song" instead:
http://www.shockwave-sound.com/track/10367
Okay, it may be a bit cheesy, but if you're making something like an electronic greeting card or just an office fun project, I think it really hits the spot. Happy Birthday!