Hi all, we would like to bring some attention to a couple of features / offers that we have here at Shockwave-Sound, but that are perhaps not being made visible enough:
Bulk offers on downloadable CD-collections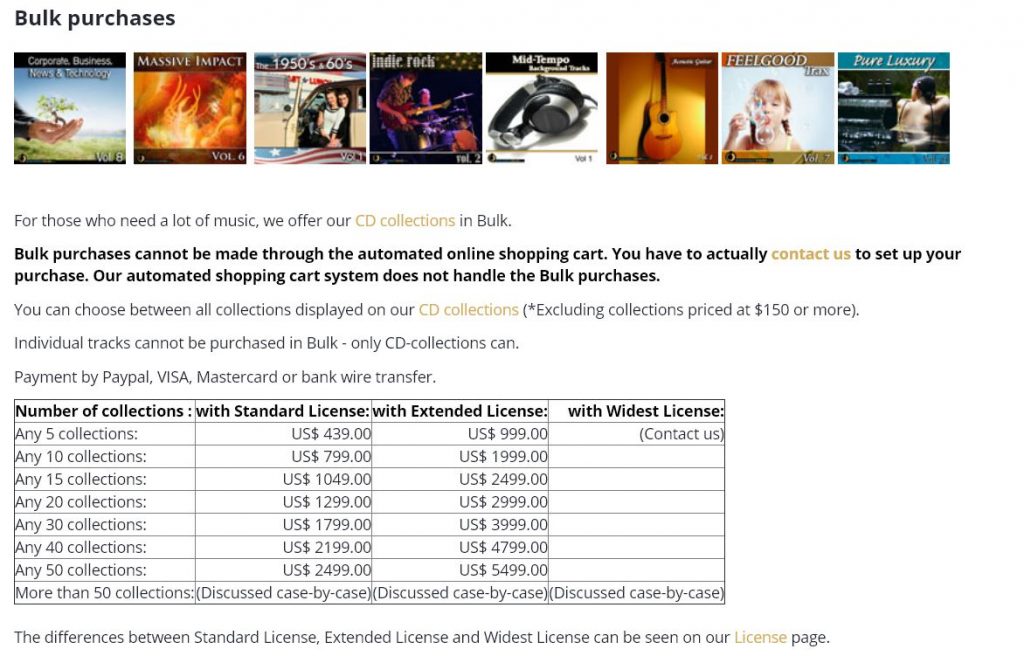 Our pre-packaged, ready-made, downloadable album collections of stock music and royalty free music (and also sound-effects) are typically priced at around $99 – $139 per collection, but by buying a lot of them together in a single purchase, you can get them for very heavily discounted prices, even down to $50 each.
For example, you can get any 5 collections (*Excluding collections priced at $150 or more) for $439, or any 20 collections for $1299.
We also give you a choice of how you would like to get them delivered to you:
Download only (No delivery charge)
Download + simple / generic DVD-ROM's sent to you by postal service: +$3 per collection.
Download + nicely made DVD's with full color artwork and DVD-cover: +$6 per collection.
The "downside" is that these collections are ready-made and packaged together, so the tracks contained in each collection is already pre-selected and you cannot hand pick individual tracks to create your own collections. They are what they are. So, each collection may contain some tracks that you don't ever end up using, but on the other hand, you are saving a lot of money by buying them together — even if you don't actually end up using every track.
Discounted bulk CD-collection orders cannot be made using the online shopping cart system. The shopping cart does not apply the discount. In order to buy such a Bulk offer, you have to contact us and communicate with us in person.
Special Access to download non-watermarked preview files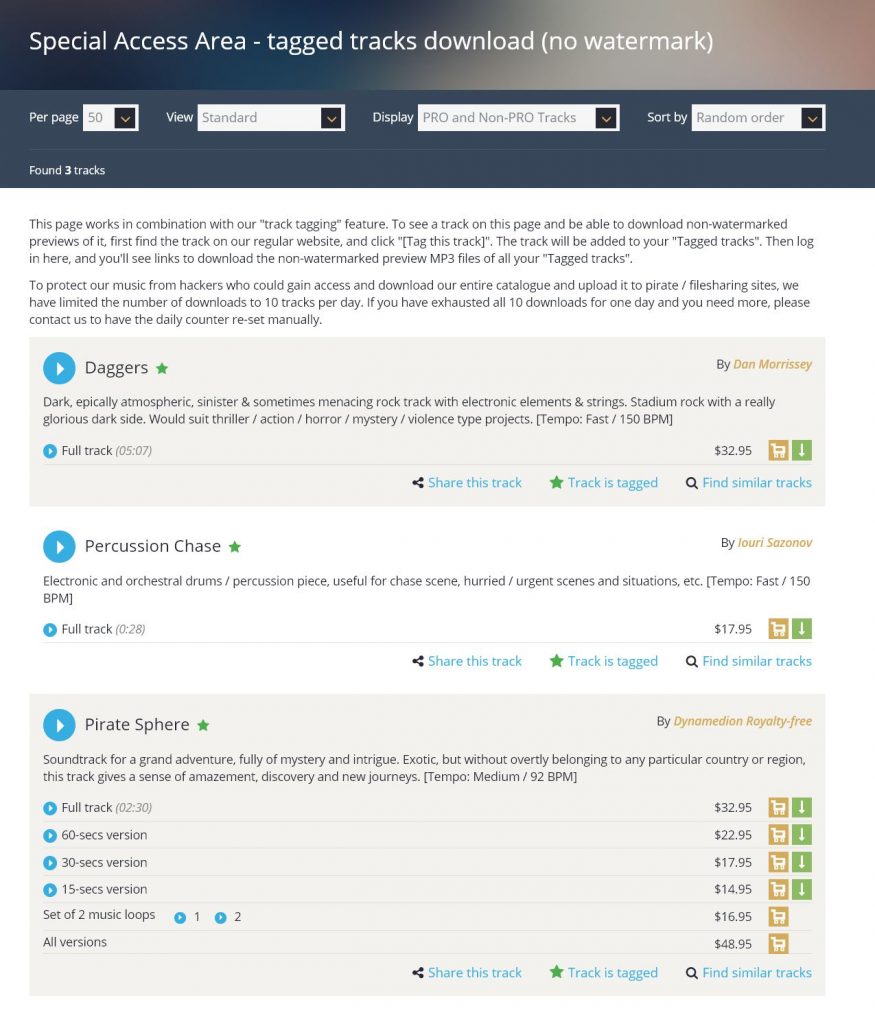 When you download or listen to preview music files at Shockwave-Sound, the sound quality is reasonable, but there is a "preview…. shockwave-sound dot com…." voice mixed into the music at a discrete level. However, access to download non-watermarked MP3 preview files may be granted to clients with specific needs to download our music to try it out in their project, without the voiceover watermark, before buying a license.
We keep a pretty strict limit on the type and number of clients who are granted this level of trust. We ask for your understanding that we can only grant this access to:
High volume customers,
Large/high profile companies,
Long-standing repeat customers,
Other companies that we feel it is in our particular interest to show this level of trust.
If you would like to speak with us about getting access to our non-watermarked MP3 preview files, please contact us through our contact form. Please include your full name, company name, company postal address, company website, telephone number, and a short introduction of your company and how you plan to use our files. Most likely we will give you a phone call to discuss briefly, and then set up your access.