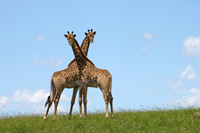 Here at Shockwave-Sound.com we love to cross-promote with our customers, so if you write up a little story/article on your website or blog, we will do the same for you on our blog. Our site is visited by over 4,500 different/unique visitors every day and is a very active place with a lot of media people reading it, so we guarantee that it will be good promotion for you.
Should you be interested in this, please go ahead and write a little something on your website or blog that includes us. Perhaps something about why you chose this music track, why you licensed it from our site, how you feel it matches or fits into your project, and how you worked the integration between your project and the music. Basically just anything that tells a little story about Shockwave-Sound.com and the how / why / when you used us. Include a working web link to our website: http://www.shockwave-sound.com (that is a requirement). Here is a .zip file with our graphic logo in various formats, should you need it.
Then contact us and tell us about your article. Also tell us about your project / film / game / what ever type of product you've made, and we will be happy to give it a good plug on our website – including a picture or two, if you like. And we'll link to your website, video or product.
We're looking forward to writing about your baby!