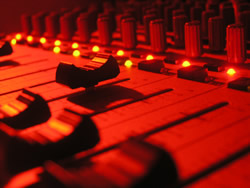 We are happy to announce that as of this week, we are officially offering a Custom made music (also known as Bespoke music) service at Shockwave-Sound.com.
Truth be told, we have sort of had this service available for a few years, but we have just dealt with it as and when the question came up from customers, without offering it, or handling it, in a concerted, organized way. Well, now we do.
The way this works is that you first discuss the basics of your project and your requirements with us here at the Shockwave-Sound office. You will listen to some music demos and describe to us what you need. We will discuss which composer / producer to use for your project. When we have got a reasonably clear picture of what you need and how much it will cost you, will will put you in direct contact with the composer, who will then be working directly with you on your project. From there on, you will discuss the project directly with the composer, via email, phone, Skype, etc. At this point, we here at the Shockwave-Sound office will not be involved with every detail of the project. Only when the project is fully finished to everybody's satisfaction, you and the composer will check back with us here at the Shockwave-Sound office, to let us know that the project was completed.
We are in the privileged position that we are able to work with many different composers and producers from all over the world, with different backgrounds, different specialities and skill sets. What they all have in common is that they impressed us sufficiently to start working with them in the first place! (We accept only about 1 in 50 composers who apply to have their music sold via our site).
For music demos, basic terms and prices, please see our custom made music page.