Sound-FX collection: Boom Everyday Cars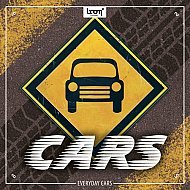 This product is 24-bit enabled.
Buckle up for 20+ gigabytes of high quality car sound effects. 10 everyday cars. Drive-bys, handling sounds, ignitions, honks, engines, doors, trunks, etc. delivered on 4 DVDs. Get this SFX library and you will no longer look for high quality sounds of everyday cars.

This 4 DVD collection offers more than 20 GB of data. We completely wired 10 everyday cars, rented a super-quiet test track for our recordings and are now proud to deliver really great and pristine long takes of drive-bys, car engine sounds, exhaust sounds and stereo interior recordings. We also give you a great selection of close handling sounds like switches, indicators, ventilation, handbrakes, basically everything we could find.

All files contain extensive metadata to provide you with the fastest and easiest workflow possible.

Key Features
Library ships in 96kHz/24bit High Definition Audio
10 everyday cars
20+GB data (multichannel recordings)
Effective workflow: well-grounded Soundminer Metadata

1.250+ files, 20+ GB of data | 96kHz/24bit, WAV

10 Everyday Cars
Mercedes Benz 300SE 3.0 (1991) - gasoline
BMW 318i 1.8 (1991) - gasoline
VW Polo 6N1 (1996) - gasoline
Peugeot 307 SW (2004) - gasoline
Subaru Forester 2.5 XS (2006) - gasoline
Opel Corsa C 1.4 (2007) - gasoline
Audi A3 (2007) - gasoline
BMW 1 series (2009) - gasoline
Fiat Panda 1.2 (2011) - gasoline
Audi A5 3.0 TDI V6 (2011) - diesel


Click here to download full product track listing in PDF format.

Download links provided immediately after purchase. (16 zip files of approx 1 GB each). Physical delivery on DVD-ROM available for a small additional fee to cover media and shipping. This is chosen during the checkout process.
Royalty Free Music collection Boom Everyday Cars
Shockwave-Sound.com
P610
Tracks