Sound-FX collection: Boom Debris: Designed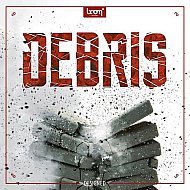 This product is 24-bit enabled.
You're in need of pre-designed high-quality debris recordings and can't manage to record them yourself but it's kind of urgent? Well, this is not only the answer to your problems, the "DEBRIS Designed" library is a treasure in itself: shattering buildings, trickling dust, breaking glass, falling stones, rattling metal, rumbling rocks, clattering wood – with 256 sounds in 64 files, the "DEBRIS Designed" version is fully loaded. All of these sounds were designed out of the source files of the "DEBRIS Construction Kit" and are ready-to-use

You're looking for tailor-made, excellent SFX for your current project? Whether you're in need of the perfect sound for a scene with a collapsing bridge, the dramatic breakdown of a whole house or the steady trickling of sandy soil, mysteriously revealing what's underneath – the "DEBRIS Designed" library offers you suitable SFX. You get WOOD, GLASS, ROCK, METAL & MORE and it's in your hands to determine the intensity as the sounds come in SMALL, MEDIUM & LARGE.

Each file contains four variations of a single sound. All sound effects are royalty free and were designed by using only the source files of the "DEBRIS Construction Kit". To improve your workflow even more, all files contain well-grounded Soundminer metadata to quickly and exactly find the sound you need. They were recorded, designed and delivered in 96 kHz, 24-bit, to guarantee you ultimate quality for optimum results.

KEY FEATURES
Library ships in 96kHz/24bit High Definition Audio
256 royalty-free ready-to-use sound effects in 64 files
Wood, glass, rock, metal in small, medium & large size
Effective workflow: well-grounded Soundminer Metadata


64 files, 256 sounds | 96kHz/24bit, WAV


Click here to download full product track listing in PDF format.

Download links provided immediately after purchase. (1 zip file of approx 1 GB). Physical delivery on DVD-ROM available for a small additional fee to cover media and shipping. This is chosen during the checkout process.
Royalty Free Music collection Boom Debris: Designed
Shockwave-Sound.com
P605
Tracks
© Shockwave Sound 2020, All Rights Reserved