Sound-FX collection: Boom Cinematic Darkness: Designed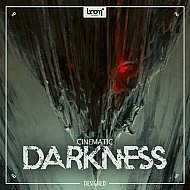 This product is 24-bit enabled.
CINEMATIC DARKNESS is destined to be the key library for your next dark movie, trailer or game project. It keeps ready mad noise terror, evil screams, weird glitches and much more gloom in an instant. The name says it all: these sounds come to you as pre-designed, "ready-to-use" tools. We created an impressive set of frightening and murky SFX with booms, deep hits, digital glitches, scary drones, science stutters, tension builders and much more. Get hold of these 750+ (*) HD SFX to save time and apply them directly to whatever gloomy scene is on your list. Our sound designers have done their best to support your creative ideas.

(*) To specify, the product contains 120 sound files but each file contains multiple variations of each sound. Cut and paste, copy and crop, use the variation(s) that work best for you.

All sounds were designed by using the source files of the CINEMATIC DARKNESS CONSTRUCTION KIT. We made sure that this collection has exactly the sounds you need to get very quick results – and you can search for any key word very easily with our well-grounded Soundminer metadata.

You're under deadline pressure and don't have time to start creating your own sounds from scratch but you don't want to lower your standards? The CINEMATIC DARKNESS DESIGNED is your creative go-to-collection if you want to pick from a full collection of evil madness.

120+ files, 750+ sounds
96kHz/24bit


Click here to download full product track listing in PDF format.

Download links provided immediately after purchase. (2 zip-files of approx 2.5 GB each). Physical delivery on DVD-ROM available for a small additional fee to cover media and shipping. This is chosen during the checkout process.
Royalty Free Music collection Boom Cinematic Darkness: Designed
Shockwave-Sound.com
P601
Tracks