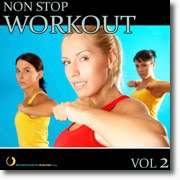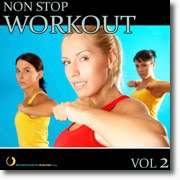 The Workout Music Series is a new product from Lynne Publishing, the company behind Shockwave-Sound.com and the royalty free sound effects site, 1SoundFX.com.
Unlike most of our music which is available only as royalty-free licensed music, the Workout Music Series is also available to buy for just personal use. Through the dedicated website Workout Music Series, you can preview each of the three albums released so far under this label, and there are further links to purchase the albums, either for personal use only (prices around $10 per album) or for in-public or commercial use licensing, royalty-free, via Shockwave-Sound.com (prices around $49 per album).
The Workout Music Series features music that is especially made for use with exercise, workout, aerobics, and other fitness activities such as running, spinning, dancercise / boxercise, cardio workouts and more. Each CD contains 10-12 tracks which have been cleverly mixed and re-mixed into a non-stop, gapless, stopless motivating music collection that plays for one hour continuously. Each track follows naturally into the next one without any stop or pause, similar to how a DJ mixes the music at a dance club, for example.
Even though it is now possible, via WorkoutMusicSeries.Com to obtain this music for as little as $9.99 for a whole album digital download, we ask you to please keep in mind that this price gives you the personal use rights only. If you want to use the music in a fitness class, a group workout, in an exercise instruction video or anything like that, you need to buy the music from Shockwave-Sound.com which costs more but gives you a royalty-free usage license. Thanks!